The X Factor Addresses Lip Syncing Scandal After Contestant Leroy Bell Caught Faking It On Air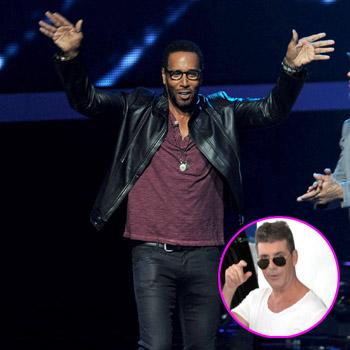 A singing slip-up on Thursday's episode of The X Factor caused outcry as millions of viewers heard contestant Leroy Bell singing before his microphone was even up to his mouth.
The blunder occurred while the finalists were performing a group number together, but still spawned speculation that the other performances could be faked, which Fox quickly addressed.
"All survival songs are performed live, with just a backing track," an X Factor representative said in a statement to TheWrap.com.
Article continues below advertisement
"For the group ensemble performance, the vocals are pre-recorded to allow acts to concentrate on preparing for their own live competitive performances on Wednesdays - this is also no different to what other competition shows do for ensemble performances."
From Ashlee Simpson and Britney Spears to Milli Vanilli, numerous pop stars have been caught lip syncing over recent years but fans expect reality competitions to be more real than big budget stadium concerts and the mistake on Simon Cowell's new show has been slammed by fans online.
Just weeks into its first season, The X Factor has already been criticised for manipulating the audience after one contestant revealed he agreed to be cut because he wanted to "rock," and another dropped his pants and flashed the judges during the early audition rounds.
As RadarOnline.com previously reported, details revealed last week of finalist Stacy Francis' previous professional success conflict with the single mom sob story that she's been selling on the show.