Exclusive
X-Factor Star Stacy Francis Was A Broadway Star & Played Tom Cruise's Birthday!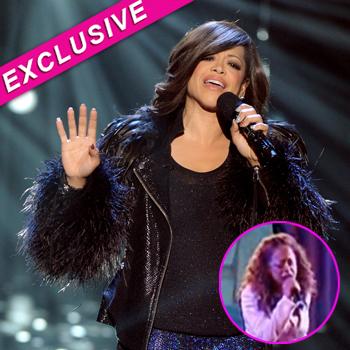 Article continues below advertisement
Stacy, 42, has appeared on New York Broadway stages in Smokey Joe's Café and Footloose and her IMDb profile boasts 12 roles in television and film, including 1990's The Bonfire of the Vanities with Tom Hanks and Bruce Willis and a couple episodes of Third Watch.
The single mother of two children also appeared on a 2011 episode of VH1's Beverly Hills Fabulous where she admitted to going through a divorce when she became pregnant with her second child from a man other than her husband.
"I just finished going through a divorce," a very pregnant Stacy said on the show to stylist Elgin Charles while getting her hair done. "We were actually separated and we were going through the divorce and it's not his baby."
Stacy was referring to her now 10-month old daughter, Anastasia. She also has a 3-year-old son, Donovan, with ex-husband Darwin Kyle Hayes — who is a successful Burbank, Calif. dentist.
Article continues below advertisement
"I can't wait for the world to discover Stacy," Will Smith was once quoted as saying about Stacy.
According to her X-Factor biography, Stacy is currently living in a modest one-bedroom apartment and she's hoping Simon Cowell's hit show will be the break she needs.
"My friends and family have just continuously supported me and get my lights turned back on and prevent my car from getting repossessed. It's really crazy," Stacy said.
"So I would get out of debt first, and get a new house that fits my family. I'm in a one-bedroom, unfurnished apartment right now. I want something more for my kids."
To see Stacy performing for Tom watch the video below: