Rihanna: L.A. Reid Is A 'Pain In The Ass' & Simon Is 'Raw'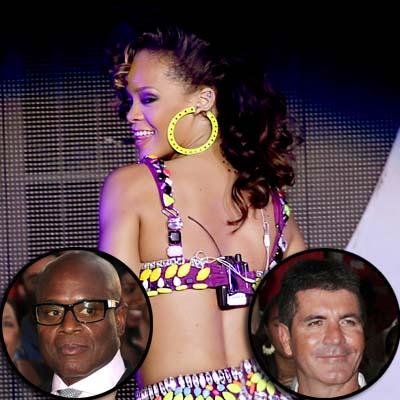 Rihanna will be serving as a special guest judge on The X Factor on Fox Wednesday night and the Barbados born beauty isn't shy about what she thinks of the show's mainstay judges -- she says L.A. Reid can be "a pain in the ass" and she describes Simon Cowell as being "raw."
Before she hit the big time, Rihanna had to personally audition for Reid six years ago at his label Def Jam; she obviously impressed him because he signed her on the spot.
Article continues below advertisement
However, the Umbrella singer, 23, says if X Factor had come along before her audition with Reid, she'd have been in line with the 100,000 others to audition for the show.
Rihanna said: "Six years ago before I was signed , if It was the X Factor that had come first, I definitely would have entered to have a chance at fulfilling my dream. With this show, it's all so exciting, and Its like a party!"
The singer says she knows exactly what these contestants are going through. "I know what it's like to audition for L.A. He rarely gives people second chances, you really have to impress him."
Although Rihanna has appeared many times on the UK version of the show, she admitted she still feels extra pressure while performing on The X Factor.
Rihanna said: "With The X Factor there's so much pressure going on. They have a very high standard of what they expect from performer in general. The judges are sitting right there watching you perform just like they were watching all the contestants. But then you have the audience, and not only the audience there but the audience at home as well!"
Article continues below advertisement
Rihanna's last appearance on the UK version of show drew massive attention and even some complaints for her risque/ sexy performance as she pushed the boundaries to impress the audience.
Rihanna confessed: "Because I respect the business and you have young people who want to be in your shoes and to be the professional- you don't want to get up there and be lackluster. You have to put you're 'A' game on on this show."
And she reveals she doesn't know who's more competitive -- L.A. or Simon.
"I don't know who's more competitive between L.A and Simon. They are both very stubborn individuals. But they also are very secure in their tastes. What they hate, they hate and what they like they really love. So I can see them being equally competitive in that area. Simon is.. very raw. Let's put it that way. With the way that he approaches critique. But it's very honest. You have to listen to everything he says, no matter how nasty it might sound. L.A Reid… he can definitely be a pain in the ass as well. I have to say, he will find a way to make you feel you might have a second chance on a nice day, but he rarely gives second chances. You have to really impress him in a short time."