Rihanna Busts Out And Gets Sexy For New Video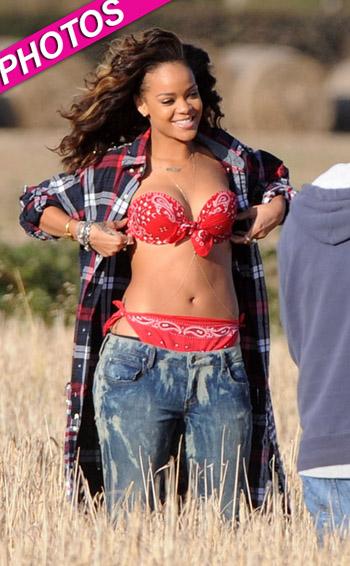 Yippee Ki Yay!
Island beauty Rihanna embraced her inner country gal, and flashed her bodacious body, on the set of her new video for We Found Love, and RadarOnline.com has the sizzling sexy photos.
The 23-year-old songstress rocked Bangor, Ireland in a long plaid shirt, red bandana bikini and jeans as she seductively sang into the camera.
Although the video depicts a whimsical Rihanna in a remote cornfield, BBC News is reporting that hundreds of spectators gathered to watch her shake her groove thang, doing her own version of the Irish jig.
Article continues below advertisement
The indomitable pop star is set to perform three concerts in Belfast later this week, and her last performance was in Rio de Janeiro, Brazil, over the weekend.
We Found Love, produced by dance mastermind Calvin Harris, has already reached number three on the U.S. iTunes chart, but Rihanna managed to upset some fans by smoking in between takes while working on the video.
Blasted one fan: "I hope there is some dancing in this video! I hate that she's smoking in pics I saw online too. She can live her life how she wants to, but it's not something I endorse."