Manti Te'o Remains Silent As Speculation Grows, 'Fake Girlfriend' Identified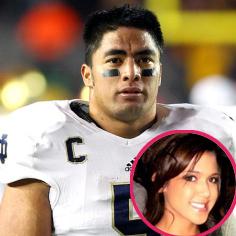 It's the story everyone's talking about - except the man of the hour himself, Manti Te'o.
The All-American linebacker didn't say a peep Thursday as he worked on his football game with other anticipated draftees at the IMG Academy, a training facility in Bradenton, Florida.
Te'o was not planning on making any public statements about the growing controversy, according to his agent, Tom Condon. In the meantime, his peers had plenty to say as news that his supposed late girlfriend, "Lennay Kekua," didn't actually exist - a ruse Te'o may or may not have been complicit in.
Article continues below advertisement
Meanwhile, Inside Edition has identified Diane O'Meara as the innocent woman whose photograph was used in the elaborate hoax. The syndicated magazine show tracked down the 23-year-old Los Angeles beauty, who declined to comment. O'Meara's attorney, however, told Inside Edition that Diane is indeed the woman in picture, but had nothing to do with the hoax.
The player who beat out Te'o for the Heisman Trophy, Texas A&M standout Johnny Manziel, said that "nobody could believe" the unlikely turn of events following the exposure of the hoax.
"It was a shock for the entire sports world," said Manziel, who spent time with Te'o at various award ceremonies since the conclusion of the college football season. "I'm just as shocked as anybody else."
Brett Rocheleau, the student body president at Notre Dame, predicted the school would stand in support of the superstar defender.
"Whenever Manti decides to speak I'll bet the entire campus will stop what they're doing and watch what he has to say," Rocheleau said Thursday. "I think the majority of students believe in Manti.
Article continues below advertisement
"They just want to hear him answer these final few questions and hear the story from his point of view."
NCAA President Mark Emmert said that college football's governing body was as confused as everyone else about the ongoing fiasco.
"We don't know anything more than you do," he said Thursday. "We're learning about this through the stories just the same as you are. But we have to wait and see what really transpired there. It's obviously a very disturbing story and it's hard to tell where the facts lie at this point.