Lisa Vanderpump Praises Brandi Glanville's Bravery & Compassion Over Eddie Cibrian Affair With Waitress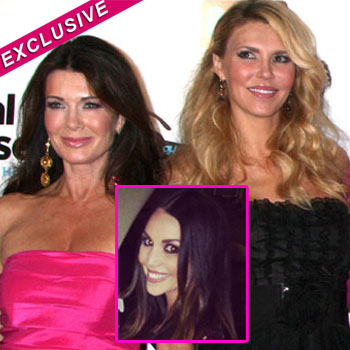 Article continues below advertisement
She went on to explain how at the Real Housewives of Beverly Hills season finale party, Lisa was shocked to the core after Brandi told her the sexy server had had an affair with her now ex-husband, Eddie Cibrian, while they were still married.
"I had no idea!" Lisa explains. "So I was put in a situation many times, where I had to say 'Scheana, I don't want you working today.' Or 'Scheana, I need you to do this section over there, as it was very uncomfortable for Brandi.' Some people even said to me, 'Why don't you fire Scheana?'"
But, Lisa says Glanville never asked her to make such a bold move though - instead choosing to face her husband's one time mistress head-on - sitting down to talk with her, woman to woman, about their illicit past connection.
"She wouldn't ask me to fire Scheana, she wouldn't ask me to do that, and even if she did, that would put me in a ridiculous situation because Scheana had worked for me for three-and-a-half years and I wasn't privy to any of this until Brandi pointed out, 'That girl there!'" Lisa shares.
Article continues below advertisement
"There's so much that people don't know, and I wish that you saw more of Brandi as a mother – but she is not allowed to use her children in the show, which is a shame because that is another whole side of her personality that we don't see, she is a lovely mother and I have spent a lot of time around her with her boys," says the outspoken Brit.
"On what grounds would I even be able to fire Scheana? Let her go because in her private life three years ago she had an affair? It's really not any of my business, but it does come to fruition because I think it would have been easier to fire her if Scheana was going to continue to work and Brandi was going to continue to come into the restaurant as my friend."
Meanwhile, Lisa says she did her best not to get in between the pair and stir up the pot even more: "I remember just being there and thinking it was best that I didn't get too involved in it and they need to sit down and work things out for themselves," she tells RadarOnline.com.
"I don't know if I could have done that, as the wife, to sit down there and talk to somebody who had been having an affair with my husband, so I commend her for that."
Article continues below advertisement
Despite Brandi's reputation for being hard nosed, outspoken and a loose cannon, Vanderpump said this is far from the first time that her big hearted friend has gone above and beyond the call of duty with a woman her ex cheated with.
"There are many things that I think no one is aware that Brandi's done. The fact that she went to therapy with LeAnn Rimes and Eddie after he left Brandi, because it was in the best interest of the children," Lisa says.
"She wanted to make sure they worked things out going forward and make sure they would all be on the same page. I couldn't have done that. I take my hat off to her for that."
Meanwhile, the meeting between Brandi and Scheana, which will kick off the first episode of Vanderpump Rules, showed both sides of the conflict from "fruition and resolution," Lisa reveals. "Scheana suggested it and I took it to Brandi and she said 'OK.'"
Article continues below advertisement