Brandi Shows Off What She Does Best: Drinking & Tweeting! Glanville Unveils Cover Of Her New Book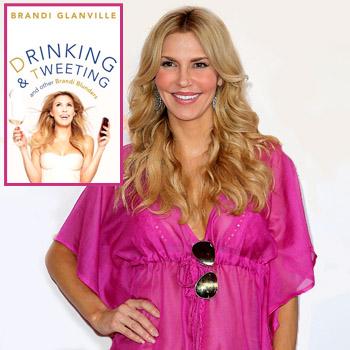 Article continues below advertisement
On a recent episode of Housewives, Taylor Armstrong ripped into Brandi over the book, claiming the only reason she thinks Brandi would write one would be to talk about how Cibrian left her for Rimes.
"Interesting you went and got a book deal about your ex husband leaving you, I think that is fascinating," Taylor sniped. "Brandi's husband cheated on her with LeAnn Rimes, left Brandi and married LeAnn Rimes. Is that a whole book?"
Article continues below advertisement
Glanville, who has been embroiled in an ongoing, very nasty, public war of words with Rimes, confirms that the book will give an insight into the messy breakup, but will also give advice to other people going through what she did.
"It's a cautionary tale about breaking up and making sure that before you become part of a 'we' you have to become an 'I' and I wasn't," Brandi told Fox 411. "It's just a tale of what I went through, the mistakes I made, what I'd do differently, the things that I did that I'm proud of.
"There's a lot of embarrassing detail. I want people to not be embarrassed going through break ups and divorces, to know what to do before they get involved in a relationship."
The book is set for release on February 12.
RELATED STORIES:
Paul & Brandi Kiss & Make Up! Nassif Repairs Relationship With Groveling Phone Call To Glanville
Indecent Exposure! LeAnn Rimes Has A Nip Slip At Charity Event
Real BFFS! Jennifer Giminez Was Brandi's 'Rock' Through Messy Divorce, Kept Glanville Sane When She 'Started To Go Crazy'