Brandi Glanville Slams LeAnn Rimes Again As Family War Explodes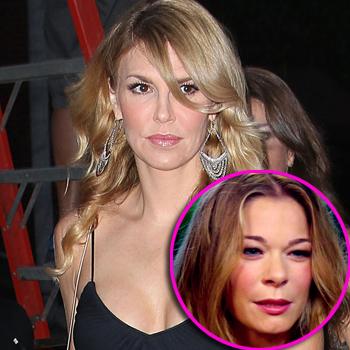 Brandi Glanville has taken another public shot at LeAnn Rimes generating even more controversy around their ongoing war, RadarOnline.com is reporting.
"WOOHOO! I just got off the phone with my book editor and our numbers went up even more last night after a certain E news interview! Hahahha!," Brandi tweeted Monday morning.
PHOTO: LeAnn Rimes & Brandi Glanville -- BFFs?
She was referring to an interview LeAnn gave Giuliana Rancic. Brandi's sons Mason, 9, and Jake, 5, were seen during the Sunday night interview, angering Brandi whose ex husband has blocked her attempts to have them appear on The Real Housewives of Beverly Hills.
Article continues below advertisement
"My kids can be on an E news special apparently but not in the background of the show I am on? Amazing!" Brandi tweeted Sunday night.
Brandi has complained that her sons cannot be in the background on RHOBH causing her to send them away with a babysitter when she films.
The interaction between Brandi and LeAnn is at an all-time low, with fans on both sides attacking each other on Twitter.
In a hard-hitting and candid interview last week, Brandi accused LeAnn of having an eating disorder and said her son became ill after eating one of the singer's laxatives.
As things grew more heated, Brandi seemed to want to calm the situation publicly, and Thursday she tweeted "I want it to go away so I can deal with it on my own. I know it seems hypocritical but can we not talk about 'them' anymore at least 4 today."
That truce was short lived because LeAnn's TV interview appears to have been the catalyst to push Brandi back into making her feelings known publicly.
During the Sunday interview, LeAnn discussed the messy situation that led to her marrying Eddie Cibrian, Brandi's ex husband.
Article continues below advertisement
"I wish I handled it differently because I wish I could have been better for me, for Brandi, for Dean, for Eddie, for everyone else," she said and then broke into tears.
But those tears are drawing no sympathy from Brandi and her supporters who believe LeAnn's behavior is still way out of line.
Meanwhile, Rimes is continuing her lawsuit against teacher Kim Smiley, claiming she illegally taped the singer during a phone call. That call occurred after a lengthy and nasty Twitter war between Rimes' fans and detractors.