Exclusive
Brandi Glanville Confesses To Co-Stars That Her Fighting & Drama Is Faked For Ratings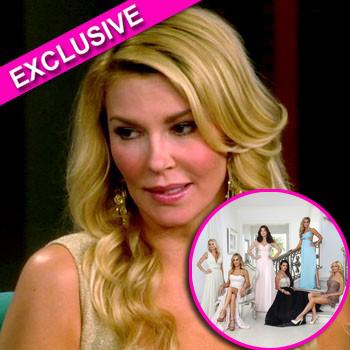 By Jen Heger - RadarOnline.com Assistant Managing Editor
The Real Housewives of Beverly Hills star Brandi Glanville has admitted to her 90210 co-stars that all of the fighting and drama she is involved with on the Bravo reality-TV show is all faked purely to get ratings, RadarOnline.com is exclusively reporting.
"Brandi has actually told Kyle, Kim and Lisa that the fighting she is involved with on the show is a farce and that 99% of what she says and does is acting. Brandi is very proud of the fact that she has catapulted to stardom on the show because of her outrageous antics," a source close to the situation RadarOnline.com exclusively.
Article continues below advertisement
"Brandi doesn't behave like that when cameras aren't around, and it's a shame that she feels she must do that to get attention to set herself apart from the other ladies. On the show, Brandi swears and immediately goes for the jugular in fights with Adrienne Maloof. Brandi is actually very level headed and intelligent in real life and doesn't swear like a sailor," the insider adds.
As RadarOnline.com previously reported, Brandi and her ex-hubby Eddie Cibrian went to blows on Wednesday, releasing nasty emails they had written to each other, but now Brandi regrets her actions and just wants to keep the focus on her children.
The latest round of feuding was sparked after RadarOnline.com exclusively obtained an email Cibrian had written to Brandi on December 2 in which he defended his wife, LeAnn, and charged that Glanville's "life exists solely for the purpose of living and creating drama" and that "wine and narcissism" consume her.
The release of the email was in reaction to an interview Brandi did with US Weekly in which she slammed LeAnn saying she doesn't feel safe having her children around her and claimed that she has to resort to using Twitter to communicate with Eddie because he doesn't respond to her emails.
Article continues below advertisement
Shortly after Eddie's email was published, Brandi posted her blistering response, on her Twitter account, claiming that LeAnn is addicted to laxatives, takes Adderall and "drinks like a fish" -- but then took the posting down just hours later.
Meanwhile, Brandi's ultimate goal is "to have her own brand. She has a very good head on her shoulders for business and has already developed a clothing line. Brandi would love to have her own reality show, and is releasing a book about her divorce from Eddie," the source revealed.