Brandi Glanville Wants Kids Supervised In Presence Of 'Unstable' LeAnn Rimes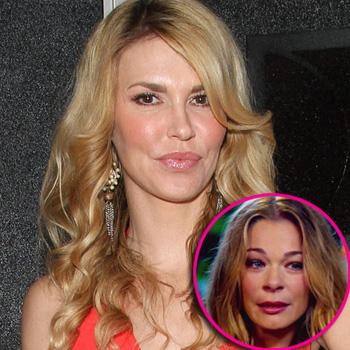 Halle and Gabe, Tiger and Elin, Charlie and Brooke … we've seen many a celebrity family meltdown over the holidays, and while we knew there was bad blood between Brandi Glanville, her ex-husband Eddie Cibrian and his current wife LeAnn Rimes, we just didn't know it was quite this toxic.
The latest chapter of conflict between the reality star, the hunky actor and the singer unfurled Tuesday, when Brandi ripped LeAnn in an interview with US, calling her a mentally unstable presence she doesn't want around her young sons, Mason and Jake.
Article continues below advertisement
"I see this ending badly -- I see someone getting hurt," Brandi said, adding of LeAnn: "She's not healthy. And until she's healthy, I don't want her around my children by herself … these are my children and I don't want this unstable person around them when she's alone."
"I know that my kids love her, and I know that she's upset. I, unfortunately, don't find her to be stable, and I don't want her around my kids when Eddie's not there -- or at least the nanny, his parents, someone … God forbid anything ever happened between her and Eddie. She uses my children as a tool to get to me, and I don't know if she cares about them the way that Eddie thinks she does."
Brandi complained that anytime she reaches out to either Eddie or LeAnn, she does not get a response, causing her to turn to Twitter to air her grievances -- at which point one of the two inevitably jumps in to do damage control.
"If I have to use it as a tool to co-parent, I will, and it is what it is," The Real Housewives of Beverly Hills star said. "I needed him to react, I needed him to at least address that there's something going on that's not OK."
Article continues below advertisement
In a response statement to RadarOnline.com, Cibrian, 39, said, "It is absolutely ridiculous that my ex-wife continues to put the personal lives of myself, LeAnn, our sons and my family on public display for the sake of her notoriety. She is fully capable and has the means of contacting myself and LeAnn privately to discuss any matter concerning the children.
"The fact she chooses not to, should be pretty transparent. And while I do not wish to fuel her ever-igniting fire, there is a breaking point where enough is enough.
"My wife, LeAnn, continues to be a loving and positive influence on the lives of my sons. They are without a doubt lucky to have her. The love they have for their 'bonus mom' continues to grow each day as we navigate the changes to our family; a fact that Brandi cannot argue as she herself has stated as much," Cibrian said. "If my ex-wife truly cared about the welfare of our sons, she would stop the constant bashing on an important person in their lives and focus on productive co-parenting to make our blended family the strongest it can be. And she would do so privately. Let's see..."
In response to Eddie's rebuttal, Brandi tweeted Wednesday, "Im not bitter Im concerned 4 MY kids,Im not n luv with EC n ANY way,Im happy 2 go BACK 2 therapy with them &PS I left him he didnt leave me."
RELATED STORIES:
LeAnn Rimes Takes Her Stilettos To The Treadmill