Twitter Backlash Against LeAnn Rimes Heats Up With Promise To Prove Her 'Lies'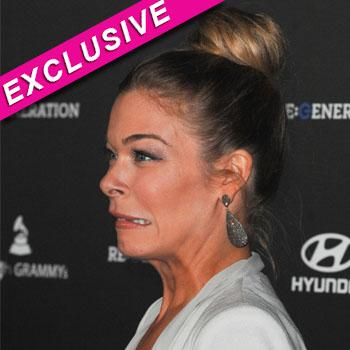 LeAnn Rimes' lawsuit against a high school teacher and mother of six has sparked a new backlash on Twitter, the same battleground where her legal fight began.
In a new interview, Rimes is accused of "narcissistic tweets" and "lies," by a supporter of Kim Smiley, the teacher who is being sued by the star.
What's more, Smiley's friend says Rimes had no expectation of privacy for the phone call that is the center of the lawsuit, as the call was in a public place, on speakerphone and recorded by Smiley out of fear.
Article continues below advertisement
"I basically see right through her (LeAnn's) narcissistic tweets and…lies. I have no problem publicly proving them via twitter," says Twitter user @Blockedbyleann in an interview posted on the blog She's a Homewrecker.
The promise of "proof" adds a new dimension to the legal fight, which began with Rimes suing Smiley for allegedly illegally taping their phone conversation.
The lawsuit is in its preliminary stages and Smiley's supporters have rallied to form a Twitter-based fundraising effort for her legal fees. Rimes is represented by top LA attorney Larry Stein.
"She is surrounded by "yes" people that when she sees someone react negatively to her she becomes highly offended," @Blockedbyleann says in the interview. "I find it quite funny since she is the one who has acted inappropriately and doesn't understand why people don't like her."
Like many of Rimes' detractors, @Blockedbyleann points to Rimes' affair with Brandi Glanville's then-husband Eddie Cibrian as a key reason why she has been the subject of Twitter wrath. She also objects to Rimes' actions with their children.
Article continues below advertisement
In a scathing assessment of Rimes, she continues: "She over steps her boundaries, she taunts and antagonizes Brandi. She has on many occasions referred to the boys as hers and Eddie's. She posts pictures of them via twitter and on her Spitfire Social Club after being asked repeatedly by their mother to not do so."
What's more, Smiley's friend believes that LeAnn's lawsuit is misguided and explains about the suit: "Personally it hasn't affected me, but it has affected my friend Kim and her daughter Lexi. They are being lied about and this suit has been filed on baseless information and Ican't wait for the Judge to hear Kim's side.
MORE ON:
hollywood happenings
"I have a feeling he will be pretty upset with Leann Rimes and her attorney. They claim it was a set up and I can promise you it was not. I can also promise you that the tape was not edited nor was it released online by Kim Smiley or her daughter Lexi. The only basis for the suit they have is the recording, and that was done out of fear for what Leann Rimes was going to say.
"She started the conversation out with "This is Leann bitch, you have 5 minutes to say whatever you want to me" and the cursing ensued to the point where Kim felt like she needed to protect herself by recording the conversation."
Article continues below advertisement
People close to Rimes have consistently maintained to RadarOnline.com their belief that the recording was illegal and also that Smiley's language was also profane.
Interestingly @Blockedbyleann claims there was no expectation of privacy for the phone call and says: "On Leann Rimes end it was on speaker phone with 2 of her friends she met via twitter in a public and crowded restaurant. There was no privacy expected by Leann Rimes. She did not make that call expecting to make peace with Kim or she wouldn't have started the conversation out the way she did."