Brandi Glanville Responds To Eddie Cibrian's Scathing Email: 'LeAnn Is Addicted To Adderall, Drinks Like A Fish & Has Severe Mental Issues!'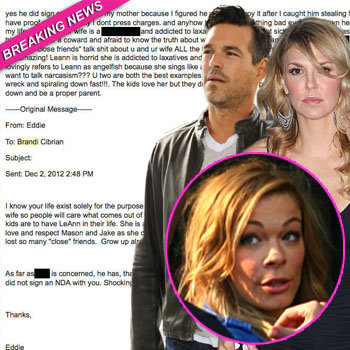 By Amber Goodhand - RadarOnline.com News Editor
Brandi Glanville is hitting back hard in response to a scathing email her ex-husband Eddie Cibrian exclusively released to RadarOnline.com on Wednesday in which he defended his new wife, LeAnn Rimes and slammed Glanville.
Glanville posted her own withering response on Twitter later in the day, ordering her ex-husband to "find ur balls" and once again attacking LeAnn, repeating the allegations she made in a shocking Us Weekly interview - that Rimes is addicted to Adderall, drinks like a fish and has "severe mental issues."
Article continues below advertisement
Read Brandi Glanville's Venemous Response To Eddie Cibrian's Email
The name-calling and nasty accusations are usually kept strictly between Brandi and LeAnn, but Eddie injected himself with accusations in his email to Brandi, claiming that "wine and narcissism" consume her.
"My kids are my life.. However, ur wife is a expletive and addicted to laxatives that Mason got sick on," Brandi charged in response. "Your 'close friends' talk sh*t about u and ur wife ALL the time… Leann is horrid she is addicted to laxatives and aderol sic has severe metal issues and redacted who was all to ready to spill on both of you and to me lovingly refers to Leann as angelfish because she sings like an angel and drinks like a fish.
PHOTO: LeAnn Rimes & Brandi Glanville -- BFFs?
"I'm a great mom and redacted saw nothing other than that. You want to talk narcissism??? U two are both the best examples of that. Why don't u man up and find ur balls and get ur country c*** off twitter she is a wreck and spiraling down fast!!! The kids love her but they don't realize she is putting them in danger!!!!!! MAN THE F**K UP eddie put the tequila down and be a proper parent," Glanville fumed.
Article continues below advertisement
As RadarOnline.com previously reported, Brandi threw fuel on the fire in the ongoing feud with LeAnn this week when she alleged to Us Weekly that the singer is a "mentally unstable presence" with a "severe eating disorder" and that she believes Rimes is a danger to Glanville and Cibrian's young sons, Mason and Jake.
In response to Glanville's accusations, Cibrian released a statement to RadarOnline.com, dismissing the claims and defending his wife: "It is absolutely ridiculous that my ex-wife continues to put the personal lives of myself, LeAnn, our sons and my family on public display for the sake of her notoriety. She is fully capable and has the means of contacting myself and LeAnn privately to discuss any matter concerning the children.
"The fact she chooses not to, should be pretty transparent. And while I do not wish to fuel her ever-igniting fire, there is a breaking point where enough is enough.
"My wife, LeAnn, continues to be a loving and positive influence on the lives of my sons. They are without a doubt lucky to have her. The love they have for their 'bonus mom' continues to grow each day as we navigate the changes to our family; a fact that Brandi cannot argue as she herself has stated as much," Cibrian said. "If my ex-wife truly cared about the welfare of our sons, she would stop the constant bashing on an important person in their lives and focus on productive co-parenting to make our blended family the strongest it can be. And she would do so privately. Let's see. . ."