Exclusive
Glanville Vs. Rimes Goes Nuclear! Eddie Cibrian's Scathing Email: Brandi Is Consumed With 'Wine And Narcissism'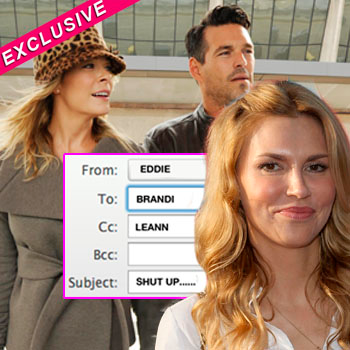 Article continues below advertisement
"I emailed, emailed, called, called -- no answers," Brandi claimed to Us Weekly in an exclusive interview. "I don't have communication with Cibrian and Rimes because I don't get responses when I reach out. I only get responses when I put it on Twitter."
Brandi, who has been fighting with LeAnn on Twitter over her sons, went on to tell Us Weekly that she recently received an email from Cibrian that only addressed her fight with LeAnn and had no mention of the welfare of the former couple's children, Mason and Jake.
Article continues below advertisement
However, Eddie's December 2 email calls bull on Brandi's claim.
"I know your life exists solely for the purpose of living and creating drama," Eddie wrote. "It's a sad way to live. It's so obvious that you have to constantly mention my wife so people will care what comes out of your mouth.
PHOTO: LeAnn Rimes & Brandi Glanville -- BFFs?
"One day when wine and narcissism are not consuming you, you will realize how fortunate the kids are to have LeAnn in their life. She is amazing with them, as the kids will 100 percent attest to.
"You should be so lucky to one day find someone who will love and respect Mason and Jake as she does. Although, I really don't know how anyone can put up with your constant bullshit. No wonder you have lost so many 'close' friends.
"Grow up already and for once, PUT THE KIDS FIRST!"
Ouch!
LeAnn's rep released a statement to RadarOnline.com slamming Eddie's ex as well.
"There is only one person constantly speaking to the press and that is Brandi. Why do you think that is? Her whole show is based on controversy, drama and publicity. She is the only one to gain by spewing forth inaccuracies, rants and half-truths," Marcel Pariseau said.
Article continues below advertisement
"It's time for people to see it for what it really is - she has a book and show to promote and sell. And what better way to keep herself relevant. Why is all the name calling just coming from one side. Brandi keeps using threatening and mean-spirited statements like 'I think she is a sociopath, I don't hate her I feel sorry for her but if she hurts my kids I will cut a b**ch or probably something worse, I wanted to kill her,' etc. and all LeAnn says is 'my boys, my family' etc. Are LeAnn's words threatening or mean-spirited? I don't think so, LeAnn and Eddie have the boys 50 percent of the time, so they are a family and LeAnn is a great and caring co-parent. As Brandi stated 'my boys love her' and LeAnn loves them.
'They're MY Boys!' Brandi Glanville Slams LeAnn Rimes In New Twitter War
Taylor Armstrong Slams Brandi Glanville For Writing A Book 'About Your Ex Husband Leaving You'