Taylor Armstrong Slams Brandi Glanville For Writing A Book 'About Your Ex Husband Leaving You'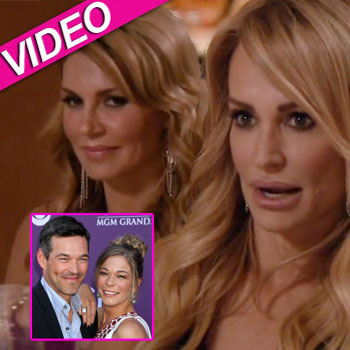 Article continues below advertisement
"Meditate," Taylor chants as things start to get heated after Brandi announces her book deal.
"No offense Brandi, but you were the first one to attack her, for doing a book," Kyle Richards says, leaping to Taylor's defense, while a flashback plays of Brandi slamming Taylor.
"Don;t expect her to be happy for you if you weren't happy for her."
Meanwhile, Kim Richards chimes in to inform everyone that she loves to meditate and Yolanda Foster tries her hardest to get the women to forgive and forget the past — but that it is NEVER easy!
"Interesting you went and got a book deal about your ex husband leaving you I think that is fascinating," Taylor snipes at Brandi.
"Brandi's husband cheated on her with LeAnn Rimes, left Brandi and married LeAnn Rimes. Is that a whole book?" She bitchily asks.
The Real Housewives of Beverly Hills airs on Bravo Mondays at 9/8c.
RELATED STORIES:
Brandi Glanville Tells Kim Richards: 'I Cry And I Drink And I Take Lexapro'
Brandi Glanville Slams Taylor Armstrong For Dating A Married Man: 'I Think She's Hurting People'
Tipsy Taylor Armstrong Slams Brandi Glanville: 'She's Slept With Every Man In Beverly Hills!'
Brandi Glanville: Taylor Armstrong Was Drunk At Kids' Party