Brandi Glanville Slams Taylor Armstrong For Dating A Married Man: 'I Think She's Hurting People'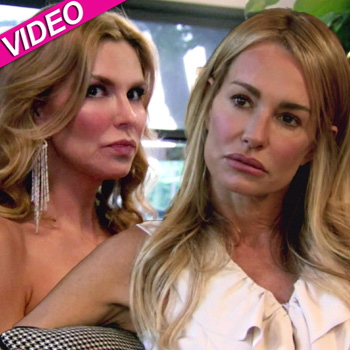 Article continues below advertisement
"I just don't agree with a lot of things she does," Glanville says. "Her fundamentals are off. I feel sorry for her and her situation with her daughter and her husband's suicide I just don't think she's making great choices. I think she's hurting people and I don't have respect for that, so I don't know that I will ever be OK with Taylor."
RadarOnline.com was first to report that Taylor was hooking up with her married attorney, who has subsequently separated from his wife. Both Armstrong and Bluher vehemently denied they were romantically involved but Taylor has since come clean about the affair, gushing that the father-of-three is the "love of my life."
Dating a married man is a touchy subject with Glanville, who famously divorced from her husband, Eddie Cibrian, after he had an affair with his co-star, LeAnn Rimes. And although she says she is happy to see taylor happy again, she doesn't think she "is being respectful of the situation that her boyfriend is coming from. I think a lot of people know he is getting a divorce, so he's married and has kids."