Tipsy Taylor Armstrong Slams Brandi Glanville: 'She's Slept With Every Man In Beverly Hills!'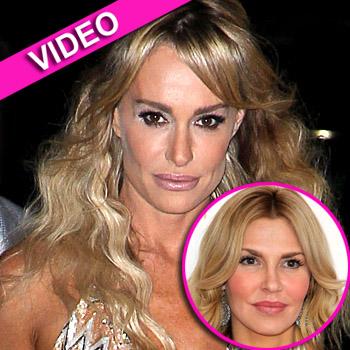 A very tipsy Taylor Armstrong is accusing her The Real Housewives of Beverly Hills cast mate Brandi Glanville of sleeping with every man in Beverly Hills, and RadarOnline.com has video of her astounding attack.
With close to 16,000 adult men living in Beverly Hills, that's quite an accusation to make, even for Armstrong!
As the cast members -- minus Brandi -- get together and the drinks flow, Taylor literally lets rip at her "nemesis" Brandi.
Article continues below advertisement
Turning to jazz musician Chris Botti, who joined the ladies at a restaurant, an inebriated Taylor slurs: "We've got a good table...thank God my arch nemesis isn't here...or she'd be going down. She has slept with every man in Beverly Hills. She travels to find someone to sleep with...some sort of flight plan!"
As the rest of the room looks on uncomfortably, Taylor continues: "She has slept with every man in Beverly Hills. There's close to 16,000 men in Beverly Hills.