Brandi Glanville Tells Kim Richards: 'I Cry And I Drink And I Take Lexapro'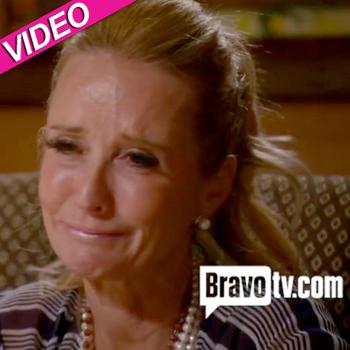 It starts out as a heartfelt moment between former enemies Brandi Glanville and Kim Richards brooding over their empty nests. But in the reality TV world a quiet dinner easily becomes a mini catfight.
RadarOnline.com has a preview of the latest episode of The Real Housewives of Beverly Hills before it airs Monday.
The evening begins on a positive note with Glanville and Richards bonding about their feelings of loneliness. Brandi says: "There are times when I will sit by myself and go into a deep dark hole and be alone in the dark because no one's calling and saying: 'Let's do something'. But it's because everyone's married with kids."
Article continues below advertisement
She goes on to say: "I cry and I drink and I take the antidepressant Lexapro."
Richards – who has had a well-documented substance abuse problem – quickly agrees, saying: "I did the same thing and it was so lonely for me too."
Glanville goes on to apologize to Richards whom she once accused of taking crystal meth. As the 48-year-old tearfully listens, Brandi says: "I call it like it is but I'm not judging you because I've been there…
"I've been in the darkest of dark places and I've done some s*** that I had to really do some soul searching about…. I know I've apologized to you a few times. I have no filter and I do say things that I probably shouldn't say."
But the mood changes when Adrienne Maloof who is at the other side of the table spots Richards' tears and shouts: "Uh oh. Somebody's crying." Glanville fires back, telling her to "shut the f*** up."
MORE ON:
The Real Housewives of Beverly Hills
Article continues below advertisement