Exclusive
Friends Fear Kim Richards Has Relapsed, Is Abusing Pain Pills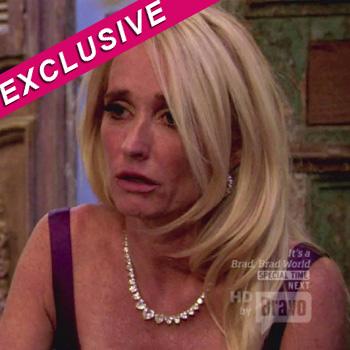 Article continues below advertisement
However, despite several months of clean and healthy living, the 47-year-old self-confessed alcoholic appears to be slipping back into her bad old ways again.
"Kim has appeared to be totally stoned whenever I've seen her recently," a source close to the former child star tells RadarOnline.com. "Her speech is slurred, her eyes are glassy and she's incoherent at times.
"She recently had a nose job and was prescribed pain pills to help her through the recovery and she appears to have developed a real liking for them.
"Addiction specialists advise all recovering addicts not to undergo any elective surgeries for at least a year after leaving treatment, for this very reason. A person that has substance abuse issues should not have ready access to strong, addictive medications, it's just begging for trouble.
"Kim was taking Vicodin for the pain while she recovered from the surgery and Ambien to help her sleep, and judging by her recent behavior, in my opinion, she is still taking them, in some quantity.
Article continues below advertisement
"She mentioned recently that she wants to undergo a second nose job as she claims her dog jumped up and hit her in the face. She said she suffered some damage and needs corrective surgery. It just doesn't ring true to me though and it is really very worrying."
Shortly after leaving rehab, Kim admitted during a Housewives reunion show that she is an alcoholic. She had previously admitted on an episode of Housewives to taking a myriad of prescription pills, including Lexapro, Trazadone and Topamax.