'They're MY Boys!' Brandi Glanville Slams LeAnn Rimes In New Twitter War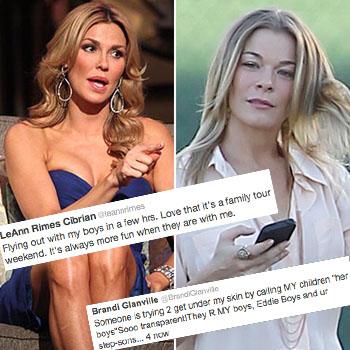 The gloves are off...again. Brandi Glanville and LeAnn Rimes are in a new Twitter war, this time over the two boys The Real Housewives of Beverly Hills star has with her ex-husband Eddie Cibrian who is now wed to the country singer.
It started on Friday when LeAnn was heading out on a work weekend in Oregon, accompanied by her actor husband and his sons Mason and Jake.
LeAnn had to Tweet about it, of course. "Flying out with my boys in a few hrs. Love that it's a family tour weekend. It's always more fun when they are with me."
Article continues below advertisement
Seems innocuous enough, right? Not to Glanville!
"Someone is trying 2 get under my skin by calling MY children "her boys"Sooo transparent!They R MY boys, Eddie Boys and ur step-sons... 4 now," she responded.
And prior to that LeAnn posted a video of one of Brandi's sons riding a bicycle without a helmet — a definite no-no.
Brandi tried to stay calm and tweeted:
"Im trying not to tweet about something I just saw.... Breathe." But unable to keep with her vow "not to tweet," just minutes later, she wrote: "Im taking a moment from twitter to breathe and punch some pillow."