Camille Grammer 'Relieved' To Be Out Of Housewives Drama, Thinks Lisa Vanderpump & Adrienne Maloof Should Move On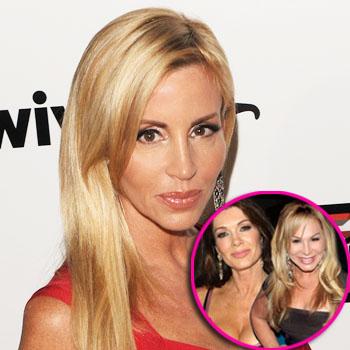 Camille Grammer weighs in on the ongoing tension between her The Real Housewives of Beverly Hills castmates Lisa Vanderpump and Adrienne Maloof -- and admits she's "relieved not to be involved in any drama so far" in her new part-time role on the show -- and we've got all the details for you right here on RadarOnline.com.
Calling the tension "so unfortunate," Camille said in a new Bravo blog she wishes Lisa and Adrienne "could put this past them and move on," citing her "contentious" season one feud with enemy-turned-friend Kyle Richards as an example that it's at least possible.
Article continues below advertisement
"The things we said to each other were hurtful and we both were affected deeply," she wrote. "But we were able to move on. It would be great to see Lisa and Adrienne just get to that place, because life is too short.
"All of us have gone through so much in our personal lives that it would be so wonderful if we could all just get along, sans the drama."
Camille said the healthiest option for both Lisa and Adrienne would be to exchange sincere apologies, and forgive one another, for the ongoing issues.
"If we can forgive, it will help us to grow and not remain stagnant in the same place … then we can move on without animosity and hurt feelings," she wrote. "I'm hoping that Adrienne and Lisa can get to that place."
In the blog, Camille also gives an update on her relationship with hunky Greek boyfriend Dimitri Charalambopoulos, saying that "things are going well.
"We just spent Thanksgiving together -- and he cooked. I didn't even have to hire a caterer. It was so wonderful."