Team Camille! Kyle & Kim Richards Say Kayte Grammer Dressed Like Kelsey's Ex For Halloween!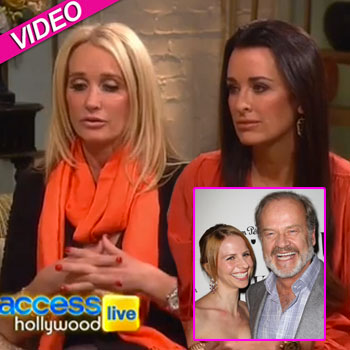 Article continues below advertisement
When Billy Bush asked if it was true that Kayte Walsh Grammer dressed as Camille, Kyle answered "That's what I heard."
Kim said they weren't at the party, but they "had friends that were there."
Kayte was wearing a black lacy dress and a long blonde wig and Kyle described the rest of her outfit as "with a bandage across her nose."
Firmly on Team Camille, Kyle slammed Kayte's Halloween costume choice, saying "I mean, have a little pride."
There is no love lost between Kelsey and his ex, whom she described as going on a "Negativity Tour 2012."
Kelsey's explanation of their night out was that his wife was dressed like a witch.
"Kayte is breast-feeding and we do not have a nanny or a trusted baby-sitter at this time, so Faith goes everywhere with us. We enjoyed the party with a few of our friends, the baby slept as her ears were covered the entire time and we left shortly after midnight. Kayte dressed as a witch (her hat was missing as she had removed it because her wig was itching and it was hot) -- I threw together an uninspired Dracula. We enjoyed the evening. We love our child. Kayte is my wife and lady love (who is 31 and goes by the name Kayte Grammer, by the way, not Walsh). The world is round. All our eyes are blue. Happy Halloween and Cock-a-doodle-doo!"
Article continues below advertisement