Exclusive
Camille Grammer Wishes Kelsey Would Stop Publicly Bashing Her & Their Marriage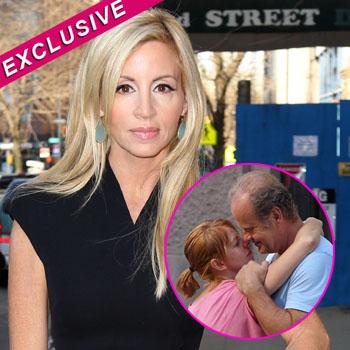 Article continues below advertisement
"Kelsey and I shared a life together and have two beautiful children together, and I just wish he would stop the constant barrage of negativity towards me as it's bad for our children and our respective families," Camille told RadarOnline.com exclusively. "I would hope that Kelsey would say something positive about our life together, so we can be amicable. I have absolutely no ill will towards Kelsey, I keep focused on what is ahead and I don't look back. I have happy memories about my time with Kelsey, yes, there were sad times, but I focus on the positive times for the sake of our children. I'm just not a negative person."
As we previously reported, the former Frasier star has been on a press flurry recently, often addressing the subject of his ex-wife in a not favorable light.
Kelsey dealt a low blow to Camille on a recent episode of Conan, mentioning he "hadn't had sex for a decade" prior to meeting Kayte.
Kelsey said he wanted to clear up a misconception in "a lot of postings" about his early days with Kayte, the former flight attendant he first met on a Los Angeles to London flight while still married to Camille.
Article continues below advertisement
In regards to rumors the two made love the first night they met, the enigmatic Kelsey said, "That's not true.
"Well, we kissed that night...we didn't do anything much more than kiss for several months," the 57-year-old Boss star said. "I just wanted to clear that up...she was worth the wait.
"I would think that would be difficult," Conan remarked, to which Kelsey shot back, "Well, for a guy that hadn't had sex for a decade it wasn't that hard!"