Kelsey Grammer: I 'Hadn't Had Sex For A Decade' During Marriage To Camille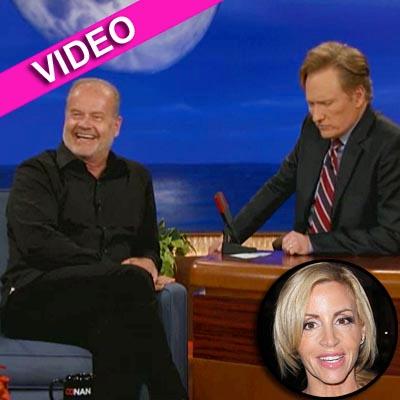 Ouch! Kelsey Grammer took another dig at ex-wife Camille Grammer on Monday's Conan, mentioning he "hadn't had sex for a decade" prior to meeting now-wife Kayte Walsh.
Kelsey said he wanted to clear up a misconception in "a lot of postings" about his early days with Kayte, the former flight attendant he first met on a Los Angeles to London flight.
In regards to rumors the two made love the first night they met, the enigmatic Kelsey said, "That's not true.
Article continues below advertisement
"Well we kissed that night...we didn't do anything much more than kiss for several months," the 57-year-old Boss star said. "I just wanted to clear that up...she was worth the wait.
"I would think that would be difficult," Conan remarked, to which Kelsey shot back, "Well, for a guy that hadn't had sex for a decade it wasn't that hard!"
Watch the video on RadarOnline.com
Kelsey has often made his animosity toward his ex public, frequently saying he got her a spot on The Real Housewives of Beverly Hills as a going-away present in their split, as she always wanted to be famous.