Kelsey Grammer's Estranged Wife Joining Real Housewives Of Beverly Hills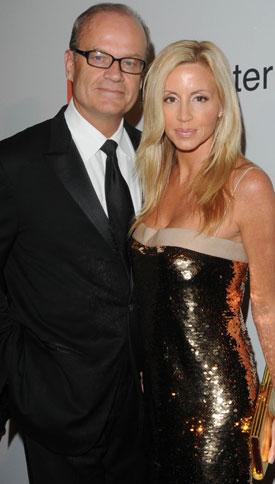 Kelsey Grammer's soon-to-be ex wife Camille Grammer will be among the rich and glamourous women joining the cast of Bravo's latest edition of its Real Housewives franchise when it debuts this fall, RadarOnline.com can report.
In addition to Camille - a mother of two - joining the cast of Real Housewives of Beverly Hills, People.com reports the show will also star Adrienne Maloof, a native of New Mexico who's part of the Maloof dynasty, which owns the Sacramento Kings basketball team and the Palms Casino Resort in Las Vegas.  Maloff is married to noted plastic surgeon Dr. Paul Nassif. The couple has three young sons - Gavin, 7, and twins Christian and Colin, 4.
Article continues below advertisement
The show will also feature sisters Kim and Kyle Richards, both of whom are former child stars.  If Kim's name in particular sounds familiar, that's because Kim was a Disney darling way before Miley Cyrus was even born.  Kim starred in Disney films like Escape to Witch Mountain and Return to Witch Mountain and in the 70's magical comedy, Nanny and the Professor. Their other sister is Kathy Hilton - Paris Hilton's mom.
Also joining the cast: Lisa Vanderpump, a British restaurateur who's well known on the Beverly Hills scene. She operates two restaurants and also writes a skincare column in Beverly Hills Lifestyle magazine.Vanderpump has been married for 29 years to her husband Ken. They have two children- Pandora, 24, and Max, 18. They also have four dogs.
Rounding out the 'wives': Taylor Armstrong, the wife of a venture capitalist, Armstrong moved to Beverly Hills seven years ago from Oklahoma, and focuses  on raising her daughter Kennedy, 4. 
Article continues below advertisement
People says that Kelsey Grammer will actually appear in some scenes with Camille during the upcoming season. The couple filed for divorce last July after 13 years of marriage. Kelsey immediately began seeing a British flight attendant, and the couple have announced they are expecting a child.
The Real Housewives of Beverly Hills premieres October 14 on Bravo.
RELATED STORIES: