Kelsey Grammer & New British Gal Pal Expecting Baby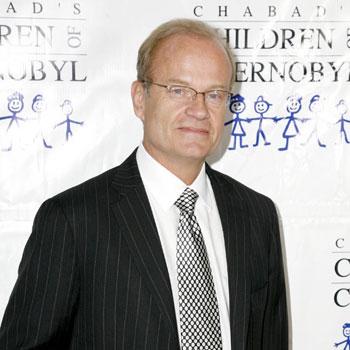 Frasier star Kelsey Grammer is reportedly expecting a baby with his new British girlfriend Kayte Walsh, RadarOnline.com can reveal.
The 55-year-old actor – who is 26 years older than blonde haired Walsh – just recently filed for divorce from his wife of 14 years, former Playboy model Camille Donatacci.
RadarOnline.com previously reported how the multi-millionaire actor had filed legal papers in his divorce case to stop his soon-to-be ex-wife from getting her hands on his earnings from the popular sitcom.
Article continues below advertisement
Grammer and Walsh, a Virgin Atlantic Airways flight attendant, have been pictured strolling around New York in recent days hand in hand.
COURT DOCUMENTS: Read Kelsey's Response
Her father Alan Walsh confirmed to the UK Daily Mail newspaper that his daughter was pregnant by the Emmy Award winning star.
He told the newspaper: "It's great news and we are very pleased for them both.
"I don't know how long they have been together and I have not met him yet, but I'm looking forward to it. We just found out about her pregnancy a couple of days ago.
"I think they met in New York socially because she works for Virgin Airways and often stops over in America.
"The main thing is for them both to be happy and they are – they have just hit it off together."
Kayte Walsh is used to mingling with celebrities ; she works in Upper Class for Virgin Atlantic and friends have described her as 'a great girl'.
Grammer and Donatacci cited 'irreconcilable differences' as the reason for the end of their 13- year marriage. She is seeking primary custody of their daughter Mason, eight, and son Jude, five.
Article continues below advertisement
The colorful actor has been married twice before. His first marriage was to dance instructor Doreen Alderman and lasted from 1982 to 1990 during which time they had one child, Spencer, now 26, an actress.
He then married stripper Leigh-Anne Csuhany in 1992 but they split after he claimed she was abusive and had beaten him up.
During this marriage, Grammer had a daughter out of wedlock, Greer Kandace, now 18, with hair and makeup stylist Barrie Buckner.
Despite achieving huge success in his career his life has been marked by tragedy too - when he was 13 his estranged father, Allen, was gunned down in a random attack by a psychopath.
While younger sister, Karen, was raped and stabbed to death 35 years ago by a gang of teenagers, a tragedy from which he never fully recovered, and which led him into a self-destructive spiral of drink and drugs.