Piers Morgan: Kelsey Grammer Walk-Off 'Shockingly Unprofessional'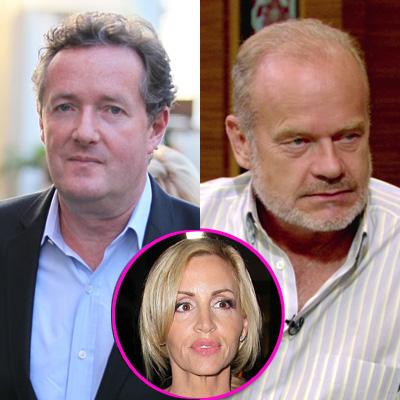 Piers Morgan called Kelsey Grammer "shockingly unprofessional" on Twitter Wednesday, after the enigmatic Boss star left CNN Studios in Los Angeles prior to a scheduled interview, rattled by a preview featuring a photo of his ex-wife Camille.
Morgan wrote a series of tweets explaining the turn of events: "Kelsey Grammer was supposed to be on my show now but ran out of the building. Strange. #CNN.
Article continues below advertisement
"So, Kelsey Grammer saw a photo of his ex wife Camille in the open to our show and legged it. Extraordinary. Never had this happen before.
"I had a very friendly chat with Kelsey backstage, He said he was really looking forward to the interview. Weird. #CNN.
He wrapped up saying, "I like Kelsey Grammer personally, but this was a shockingly unprofessional thing to do. I wasn't even going to mention his ex-wife!"
Grammer's camp answered back, as his spokesman Stan Rosenfield told The Hollywood Reporter, "Piers needs to take responsibility for what he did to Kelsey.
"It's called accountability."
Embattled actress Kelly Rutherford and journalists Larry Kudlow and Nicholas Kristof appeared in place of the former Cheers star.
Grammer's reticence to talk about Camille comes as somewhat of a surprise, as he recently referenced his sex life (or lack thereof) with his ex in an interview with Conan O' Brien last week, joking he "hadn't had sex for a decade" prior to meeting current spouse Kayte Walsh.