Kelly Rutherford Pleads For Return Of Her Children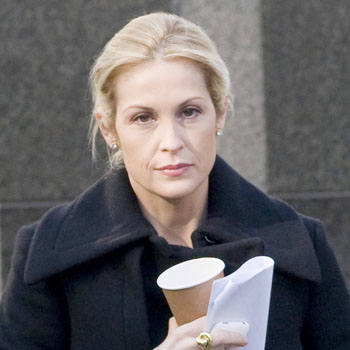 Gossip Girl star Kelly Rutherford is pleading for the return of her children Hermes, 5, and Helena, 3, after losing custody of them to her German-born ex-husband Daniel Giersch who currently resides in France.
In response to the growing interest in her plight, Rutherford made a tearful plea on Good Morning America on Friday.
"I'm just thankful that everyone has taken an interest in it," she said. "I hope people continue to, because I think it will help create change and help get my kids home. I think the longer that this goes, the harder it is."
Article continues below advertisement
Rutherford filed for divorce from Giersch, a businessman, in 2009 after three years of marriage. Geirsch now lives in France and is barred from the U.S. due to a revoked Visa.
Even then at the time of their divorce, she believed that there was a chance that Giersch might abduct her children. Her worst fear came true when Judge Theresa Beaudet said that in order to share custody, the children should live with Giersch abroad and Rutherford could visit them when she wasn't working.
MORE ON:
hollywood happenings
With no plans to return, the children are now in school and while the actress does talk to them, she says that she fears they are even being brainwashed.
First appearing on The View, a teary Rutherford had this to say about the situation. "He could disappear tomorrow and I'd have no way to look. My biggest fear is that I wouldn't know where they are."
But she has found her resolve.
"I'm hoping that somehow, some way, this will help change the way the court makes their decision, maybe that's why it's happening," Rutherford said to Good Morning America.