Kelly Rutherford Reunites With Children In France For First Time Since Losing Custody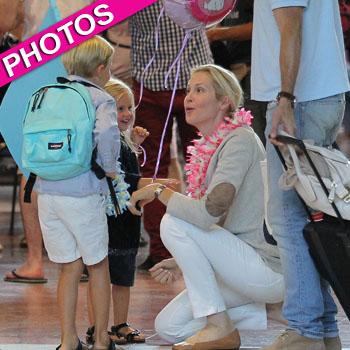 Gossip Girl beauty Kelly Rutherford and her young children Hermes and Helena reunited at a Nice, France airport Tuesday, for the first time since she lost custody of the two, and RadarOnline.com has the heartwarming pics.
For the past three years, the fashionable 43-year-old Melrose Place beauty has been in a vicious custody battle with ex-husband Daniel Giersch, who was at the emotional airport reunion.
Article continues below advertisement
Hermes, 5, and Helena, 3, brought a sign that read "Welcome super mama," as well as Hello Kitty balloons for the maternal meeting. Kelly, who flew in from New York City for the meeting, left the terminal with the kids and her brother Anthony.
The trip came just days after a Los Angeles judge - saying Kelly had gone out of her way to prevent the father from seeing the children - ruled that he would allow the kids to stay with Giersch in France, whom they had been visiting for a summer vacation.
"I will never stop fighting for my children. They're my babies, and they're very young, and this is going to affect them profoundly," Kelly told ABC News last week. "I want to be there as much as I can to show them that this isn't my fault, this isn't something I wanted, and that's my concern.
"They went away for the summer to visit their dad and now all of a sudden they are starting school in France, so I think it shocked everyone."