Kelly Rutherford Sobs About Children Living In France, Says Son Is 'Brainwashed'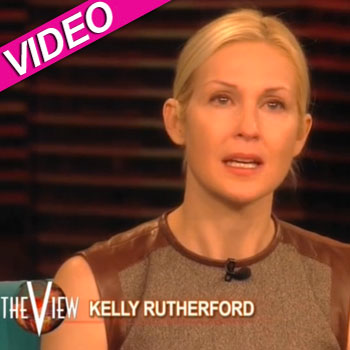 Article continues below advertisement
"My little girl said 'I want to come home, mama. I want to come back to New York,'" she described about Helena, 3, who is now in the custody of her ex-husband Daniel Giersch.
Wiping away tears with a tissue that Whoopi Goldberg brought her, Kelly dropped the bombshell that she believes her son, Hermes, 5, is being brainwashed.
"My son, who's kind of been brainwashed, said where he is is so much better, but he always says 'Mama, I love you so much, you're in my heart.'"
A Los Angeles judge ruled that the children can stay in France with their father and she must visit them there.
"I don't think he would intentionally harm the children," Kelly said. "But I do think that the children are at risk because I was the primary care giver and now I'm the visitor. There are a lot of things being said to them every day that aren't things that kids need to hear."
Kelly said her son's birthday is in October and she is hopefully planning to be with him on his special day.