Kelsey Grammer Says He Should Have Admitted Cheating Sooner, 'It Was Painful And Uncomfortable'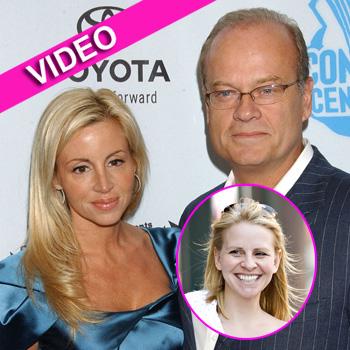 Article continues below advertisement
"It was the wrong decision and I should have come home from England when I first met Kayte Walsh and just said, 'Listen I've met somebody and this hasn't been working for a long time.' I regret not doing that.
"I thought I could do something nice, some parting thing and so it was very painful and uncomfortable," explained Camille's wayward former spouse. "It was uncomfortable for Kayte, it was uncomfortable for all of us."
As longtime viewers of RHOBH will remember, Camille filed for divorce in July 2010 during filming of the first season of the show in what turned out to be a very dramatic initiation into reality TV for her.
The high profile split went on to become one of the most bitter in Hollywood history by the time it was finally resolved in February 2011.
Kelsey couldn't rush to the altar fast enough and made 29-year-old flight attendant, Kayte Walsh, his fourth wife before the ink was barely dry on his divorce papers from Camille.
Article continues below advertisement
The 57-year-old Boss star told Anderson that even though he has countless regrets in his life, "I can't spend my life apologizing. We make mistakes in life hopefully with people that know how to forgive," said the thrice-divorced actor.
Grammer went on to open up about the pain he and Kayte suffered when one of their twins miscarried earlier this year.
"It's tough. That was really hard. Kayte and I both, we've not really allowed ourselves to mourn him, he was our little boy," he told Cooper. "It was a sad, sad time."
Walsh gave birth to the surviving twin, daughter Faith Evangeline Elisa Grammar, on July 13, 2012.
Anderson Live is a nationally syndicated talk show, visit AndersonCooper.com for local listings. The full interview airs on Wednesday.
What A Hot Housewife! Camille Grammer Flaunts Her Not-So-Real Bikini Body
Piers Morgan: Kelsey Grammer Walk-Off 'Shockingly Unprofessional'