Exclusive
Why Kelsey And Kayte Grammer Took 3 Month Old Baby To Playboy Party: They Couldn't Get A Babysitter!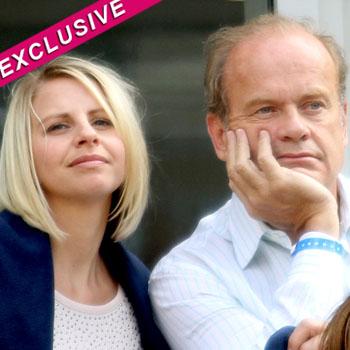 By Jen Heger - RadarOnline.com Assistant Managing Editor
Kelsey and Kayte Grammer took their three-month-old daughter, Faith, to a party at the Playboy mansion on Saturday night just a few days after the former flight attendant's grandmother had passed away, RadarOnline.com is exclusively reporting.
"Kelsey and Kayte are leaving for England on Wednesday night for the funeral and they are taking the baby with them obviously. It's just curious and odd that Kelsey would take Kayte to the Playboy mansion Halloween party over the weekend after her beloved grandmother died, and to take the baby is just beyond bizarre," a source close to the couple tells RadarOnline.com exclusively.
Article continues below advertisement
"Faith is only three months old and just too young to be at a party like that! One of the reasons Kelsey and Kayte decided to take Faith to the party was because they were unable to get a babysitter that they usually relied upon. Instead of staying home with Faith, her parents decided to take her to the party, which was held outside."
As previously reported, the enigmatic actor raised eyebrows over the weekend when he brought his daughter to the Playboy mansion Saturday night, where he partied alongside the family friendly likes of Paris Hilton, and a bevy of scantily clad Playmates.
The child was in a baby carseat, carried through the loud, raucous event, leaving partygoer Melissa May to tweet, "Why the fk does Kelsey Grammer have a newborn baby at the Mansion party!?!?!?"
Friends of the couple "are absolutely perplexed about what would possess Kelsey and Kayte to take little Faith to the party. Why didn't one or both of Faith's parents stay home and not go to the party?
And insider tells RadarOnline.com, "It just defies logic. There were no other babies or children at the party. Playboy mansion parties aren't for kids."
Article continues below advertisement