Exclusive
Camille Grammer Undergoing Annual Cancer Screening Tests, 'Knowledge & Early Detection Is The Best Prevention'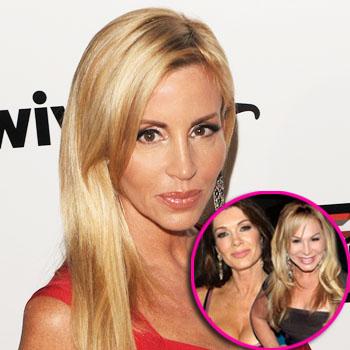 By Jen Heger - RadarOnline.com Assistant Managing Editor
The Real Housewives of Beverly Hills star, Camille Grammer is undergoing annual aggressive cancer screening tests because she is a carrier of a genetic mutation of several forms of the disease and believes that early detection is the best prevention, RadarOnline.com is exclusively reporting.
"I am a carrier of the BRCA 2 gene and I had myself tested after my mom was diagnosed with ovarian cancer several years ago," Grammer tells RadarOnline.comexclusively. "I'm currently undergoing my yearly cancer screening tests because I believe that early detection is the best prevention. I will be having my mammogram, colonoscopy and endoscopy in the next week. I have already had my annual blood tests and tissue samples, and so far, everything looks good."
Article continues below advertisement
According to Cancer.org, the BRCA 2 gene isknown as "a tumor suppressor...In normal cells, BRCA1 and BRCA2 help ensure the stability of the cell's genetic material (DNA) and help prevent uncontrolled cell growth. Mutation of these genes has been linked to the development of hereditary breast and ovarian cancer. A woman's lifetime risk of developing breast and/or ovarian cancer is greatly increased if she inherits a harmful mutation in BRCA1 or BRCA. Such a woman has an increased risk of developing breast and/or ovarian cancer at an early age (before menopause) and often has multiple, close family members who have been diagnosed with these diseases."
Grammer's mother was diagnosed with stage two ovarian cancer several years ago, and the blond beauty tells RadarOnline.com, "We got lucky with my mom because it was caught rather early, at stage two. She had a hysterectomy, and did very well. She has since gotten a different form of bladder and kidney cancer, but she is doing very well and has a positive attitude. To see my mother struggle with this and do so well is just such an inspiration to me. My mom encouraged me to get tested, and I did. No, it's not fun doing these tests every year, but I firmly believe that knowledge and early detection is the best prevention."
Article continues below advertisement
While Camille is dealing with her cancer screening tests her ex-husband, Kelsey Grammer still hasn't signed off on their financial divorce settlement. "I don't have a lot to say about that, it is what it is, and I have a great lawyer and it will work itself out," Camille says.
In the meantime, Camille is focused on her health and wants to use her public platform to "raise awareness about all forms of cancer. I think so many people are scared of getting tested because of fear of the unknown, and I understand that. But once you get into the doctor's office and get the tests done, the more peace of mind you can have.
"Knowledge is power and I would encourage all women to get mammograms when their doctors tell them to. As women, we tend to put ourselves last in our lives as we are focused on our kids and family. However, I'm doing this so I will be around to watch my kids grow up. It's for them truly that I'm doing this, I love my kids so much."
RELATED STORIES: