EXCLUSIVE COURT DOCUMENTS: Camille Grammer Tells LA Judge: Let's Talk Money Before The Divorce!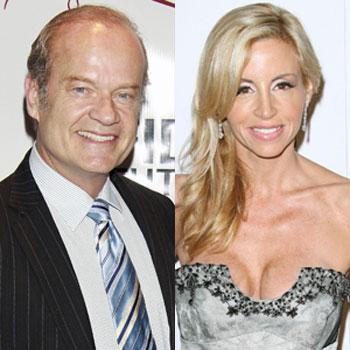 Camille Grammer is asking a Los Angeles judge to put the brakes on her quickie divorce from estranged husband Kelsey Grammer because he hasn't given her enough time to read through the actor's multi-million dollar settlement offer.
The Real Housewives of Beverly Hills star just filed a series of new documents with the Los Angeles County Superior Court before a scheduled hearing on Wednesday morning.
Article continues below advertisement
EXCLUSIVE COURT DOCS: Read Camille's Petition
In the documents, the 42-year-old reality television diva says her pension expert, Darren J. Goodman, Esq., wasn't given a chance to properly review Kelsey's fortune - including his Screen Actors Guild Pension, which she is entitled to a share of given there is no pre-nup -- despite the former Frasier star's court bid to rush through the split.
Kelsey wants to marry new fiancé Kayte Walsh next month.
EXCLUSIVE DOCUMENTS: Kelsey's Reply Re Bifurcation Motion
Camille say Kelsey's planned settlement has "not been approved by the Plan Administrators, the pension plans have not appeared in this matter and the Court has no jurisdiction over the plans as yet, and most importantly, Mr. (Roger) Halfhide (Kelsey's lawyer) has not prepared nor attached QDRO's for the Screen Actors Guild Pension Plan nor for the Respondent's interest in the two Grammnet Pension Profit Sharing Plans.
Article continues below advertisement
"Further, the Petitioner does not agree with the proposed methodology for the provisions of the proposed Equity League QDRO."
Kelsey filed to bifurcate his marriage to Camille, which means that he wants the judge in his divorce to sign off on the divorce - something that is usually done when one of the parties wishes to remarry immediately.
In her objection, Camille stated: "Pursuant to my accountants' preliminary estimate, our community estate is worth in approximate amount of One Hundred Twenty Million Dollars. This is a substantial estate which includes multiple real estate properties and their corresponding furnishings, numerous pieces of valuable art, many investment, brokerage, and bank accounts, over twenty-five vehicles."
Meantime, in papers filed on January 19, Kelsey's attorney's claimed their client had met nearly all the requirements to be granted a quick divorce.
At the time, Camille was filming what would be a one-off stint on the Bravo show, while Kelsey was busy with the Broadway production of La Cage aux Folles.
The couple have two kids together, Mason and Jude.
RELATED STORIES:
EXCLUSIVE: Kelsey Grammer Seeks To Protect Pension & Business Accounts From Camille