DOCUMENTS: Camille Grammer Claims Community Estate Worth $120 Million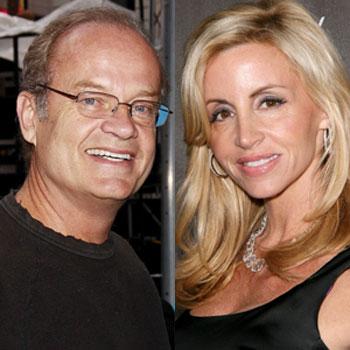 Camille and Kelsey Grammer's divorce is gearing up to be one of the nastiest and costliest in recent history.
With no pre-nup in place Camille stands to walk away with a massive share of the sizable assets accrued during their nearly 13 years of marriage – the value of which her accountants estimate at around $120 million.
DOCUMENTS: Camille Claims Community Estate Worth $120 Million
The Real Housewife filed an objection today to her estranged husband's petition to bifurcate their marriage so he can marry his new fiancee, Kayte Walsh.
Article continues below advertisement
Kelsey filed to bifurcate his marriage to Camille, which means that he wants the judge in his divorce to sign off on the divorce – something that is usually done when one of the parties wishes to remarry immediately.
In her objection, Camille's states: "Pursuant to my accountants' preliminary estimate, our community estate is worth in approximate amount of One Hundred Twenty Million Dollars. This is a substantial estate which includes multiple real estate properties and their corresponding furnishings, numerous pieces of valuable art, many investment, brokerage, and bank accounts, over twenty-five vehicles."
Going on to claim: "Respondent has not offered the Court any reason for this "rush to (status only) judgment" of the parties' near thirteen year marriage and why status termination should occur now."
Formerly Camille Donatacci, the actor's third wife filed for divorce in the summer of 2010, saying she and the Cheers star had "irreconcilable differences."
At the time, Camille was filming what would be a one-off stint on the Real Housewives of Beverly Hills, while Kelsey was busy with the Broadway production of La Cage aux Folles. (Camille referenced the play to imply Kelsey likes to cross-dress in an appearance on The Howard Stern Show Wednesday.)