Lisa Vanderpump Maintains 'Level Of Civility' With Adrienne Maloof, But Doubts Falling Out Will Ever Be Resolved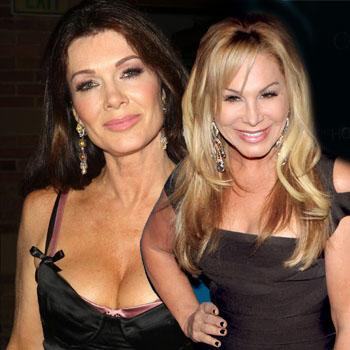 The Real Housewives of Beverly Hills' Lisa Vanderpump said her icy summit with castmate Adrienne Maloof - "to address their ongoing situation" - "was clearly needed in order for us to move on."
Lisa, admitting she doubts their falling out "will ever be resolved truly," said in her Bravo blog that the sit down at the Mulholland Grill was "essential ... otherwise I was unwilling to even engage" Adrienne.
Article continues below advertisement
During the brief chat over a glass of wine at a restaurant, Lisa said her feelings were hurt after Adrienne accused her of selling a story to a news outlet. Adrienne admitted she overreacted in retrospect.
Vanderpump blamed a stream of leaks from Maloof's camp for the lingering hard feelings.
"There have been too many manufactured, unfounded stories in the press, given by one of her employees since then, that I have never reacted or retaliated to, for me to believe that this apology was sincere and her goal was to bridge the divide between us."