Lisa Vanderpump 'Confused' By Kyle Richards' Involvement In Rift With Adrienne Maloof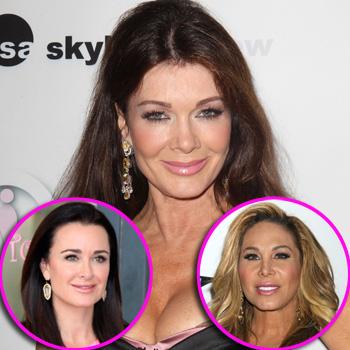 The Real Housewives of Beverly Hills' Lisa Vanderpump sounds off about the cast's current drama in a new Bravo blog -- including her tension with Adrienne Maloof -- and we've got all the details for you right here on RadarOnline.com.
Lisa writes she was confused by Kyle Richards' involvement in the rift, noting how Kyle had declared that "Lisa doesn't owe Adrienne an apology," but also "told Adrienne not to hold her breath" waiting for one.
Article continues below advertisement
Lisa said she rebuffed Kyle's offer to arrange a peace dinner between she and Adrienne because she needs "to deal with this on her own.
"I don't need anybody to fight my battles for me," the restauranteur writes, "but I have come to the conclusion that life is so much simpler if you have the courage of your convictions and play it straight."
Lisa said she avoided Adrienne at Kyle's daughter's party because it was not an appropriate time or place for a potential conflict.
"I have witnessed the altercations when we are en mass," she wrote, "and didn't think a child's birthday party was the right setting for this situation."
Elsewhere, she criticized her new castmate, former model Yolanda Foster, for coming off as "a little controlling" at a shoot with her daughter Gigi, who's also a model.
"However I have seen this woman with all her well-adjusted children and I know her to love, dedicate, and be the incredibly supportive mother that I would want entering the crazy world of modeling," Lisa said. "Gigi and her, you will see as the story unfolds, have a relationship akin to Pandora's and mine."