Brandi Glanville Unhappy With Her Looks, Self Esteem Low, Says Bravo Producer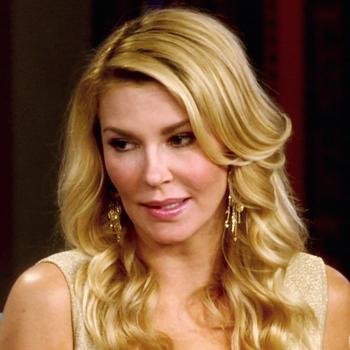 Article continues below advertisement
Dave Rupel, the show's Emmy-winning Executive Producer, candidly assessed his show and its stars, confirming that Brandi has a photo shoot phobia and is never happy with the way she looks in pictures.
"It's true. Brandi was very unhappy with how she looked in the photos," Rupel said.
And he didn't hold back why: "Her divorce really took a toll on her self-esteem," he added.
The shock waves from Brandi's divorce continue to reverberate on the Web, where many of her supporters are highly critical of Rimes.
And a recent episode revealed how much Brandi is struggling, as she told Kim Richards: "I cry and I drink and I take the antidepressant Lexapro."
Rimes, meanwhile, is continuing her lawsuit against Kim Smiley, a teacher and mother of six who expressed anti-LeAnn opinions on Twitter. Rimes claims that Smiley recorded a phone call between them without her permission.
RadarOnline.com has learned exclusively that Smiley, facing financial ruination by the star's lawsuit, is still struggling to find an attorney. Rimes is represented by Los Angeles legal powerhouse Larry Stein.
Article continues below advertisement
Meanwhile, Rupel dished a few other tidbits about life working on the Bev Hills reality show, saying:"I sometimes think about the crews of shows like 'Hoarders' and realize how lucky we are to shoot in the beautiful homes of BH."
His take on Kim Richards' recovery also showed a little humor, as he said: "In our 3 years of doing the show, this is the first trip or event Kim planned. Very proud of her recovery!"