Brandi Glanville Regrets Releasing Vitriolic Email: 'I Want It To Go Away'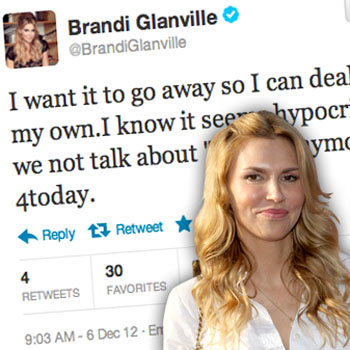 Article continues below advertisement
PHOTO: LeAnn Rimes & Brandi Glanville -- BFFs?
"This is about my kids not them!!!!!!!!!!"
Eddie started the feud when he exclusively released an email he'd written to Brandi on December 2 to RadarOnline.com in which he defended his wife, LeAnn Rimes, and said Brandi's "life exists solely for the purpose of living and creating drama" and that "wine and narcissism" consume her.
The release of the email was in reaction to an interview Brandi did in which she slammed LeAnn saying she doesn't feel safe having her children around them and explained that she uses Twitter to communicate with Eddie because he doesn't respond to her emails.
Shortly after Eddie's email was released to the public, Brandi released her response email online, making claims that LeAnn is addicted to laxatives, Adderall and "drinks like a fish" - but then took the email down just hours later.
"Im taking email down I was in defense mode," Brandi tweeted.
"Lets not talk of them anymore I was wrong 2 put it up."
Interestingly, LeAnn, who is an avid tweeter, has refrained from saying anything about the feuding threesome on her Twitter account.