Glanville Vs Rimes: Brandi Claims LeAnn Has A Severe Eating Disorder, Son Mason Was Extremely Ill After Eating Her Laxatives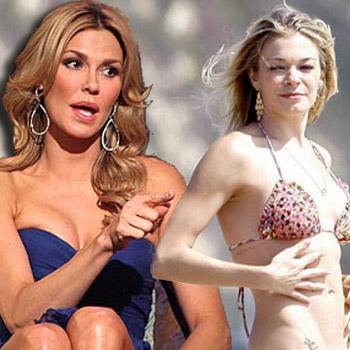 The very public bitter battle between Brandi Glanville and LeAnn Rimes continues to rage on, with Glanville's latest allegations, that Rimes suffers from a "severe eating disorder" and is endangering Brandi's kids, likely to escalate the conflict into a full blown, red alert, batten down the hatches, all out war!
In a bombshell new interview with US Weekly, the outspoken Real Housewives of Beverly Hills star rips into Rimes and alleges that her 9-year-old son, Mason, became "extremely ill" after accidentally ingesting one of LeAnn's laxatives, and RadarOnline.com has the full run-down on Glanville's shocking claims.
Article continues below advertisement
Glanville holds nothing back in the tell-all, alleging that Rimes poses a threat to the safety of her young sons Mason and Jake, citing two alleged incidents in which the singer, who's married to Brandi's ex-husband, actor Eddie Cibrian, displayed careless behavior that could have resulted in tragedy.
In the interview, Brandi charges that LeAnn keeps laxatives at an arm's reach because of her "severe eating disorder." She then goes on to relate an alleged incident in which Mason, 9, became "extremely ill" after accidentally eating one of the laxatives, mistaking it for a piece of candy.
"LeAnn has a severe eating disorder. She has a laxative in every purse. Mason found one on the floor and thought it was a Skittle! They don't keep sugar in the house. He thought he finally found candy! He gets extremely sick, and that freaks me the f--k out," Brandi alleges to Us Weekly.
In the interview, Brandi also fumes over another alleged incident in which LeAnn permitted 5-year-old Jake, to ride his bike on Roundmeadow Road, which Brandi called "a very busy road where drunk drivers have crashed.
Article continues below advertisement
"He doesn't have a helmet on and he's driving without his training wheels, which he doesn't even do at my house. He still wears them at my house, and he's alone with her," she says. "She's behind him and I know that he's having fun. I'm sure it was great … but they don't realize that they're in danger," she tells Us Weekly.
Brandi then tells the magazine that Eddie's responded to Brandi's safety concerns with reassuring statements like, "We should be so lucky to have someone in our son's lives that loves them."
But, Brandi, 40, counters with more allegations, "LeAnn loves them, but she's endangering them. They may love her, but they don't realize that, you know what, if he ate more than two laxatives -- what if he ate the whole box -- it's just not OK."
In a response statement to RadarOnline.com, Cibrian, 39, dismissed Glanville's allegations and defended his wife: "It is absolutely ridiculous that my ex-wife continues to put the personal lives of myself, LeAnn, our sons and my family on public display for the sake of her notoriety. She is fully capable and has the means of contacting myself and LeAnn privately to discuss any matter concerning the children.
Article continues below advertisement
"The fact she chooses not to, should be pretty transparent. And while I do not wish to fuel her ever-igniting fire, there is a breaking point where enough is enough.
"My wife, LeAnn, continues to be a loving and positive influence on the lives of my sons. They are without a doubt lucky to have her. The love they have for their 'bonus mom' continues to grow each day as we navigate the changes to our family; a fact that Brandi cannot argue as she herself has stated as much," Cibrian said. "If my ex-wife truly cared about the welfare of our sons, she would stop the constant bashing on an important person in their lives and focus on productive co-parenting to make our blended family the strongest it can be. And she would do so privately. Let's see. . ."