Is That The Pot Calling The Kettle Black? Brandi Glanville Says Faye Resnick Is Desperate For Attention!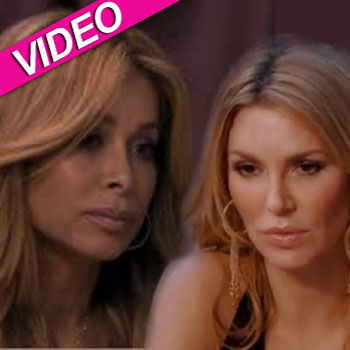 Faye Resnick sure stirred things up at Kyle Richards' dinner party on Monday night's episode of The Real Housewives of Beverly Hills, suggesting Brandi Glanville apologize to her longtime friend Adrienne Maloof, and both Brandi and Kyle blogged about the awkward conflict.
As we previously reported, Faye's suggestion fell upon Brandi's deaf ears, as the sexy, stubborn spitfire said Faye should just "shut the f*ck up" instead of dishing advice.
Article continues below advertisement
"I don't know Faye from Adam, and it's none of her business, so she should just shut the f*ck up," Brandi said in an on-camera interview after Kyle's dinner.
In Brandi's blog, she said she was planning on skipping the dinner party "if Adrienne was going to be there" so as to avoid conflict; little did she know the opinionated Faye would let her have it in her friend's absence.
Brandi complained how "Kyle brought her pit bull-slash-puppet Faye 'Rancid' in to attack me about events and things she had nothing to do with and wasn't even present for."
Not one to hold back the low blows, Brandi said Faye's just in it for attention, bringing up her past notoriety in the O.J. Simpson trial, as she parlayed her status as Nicole Brown Simpson's best friend into a Playboy cover.
"It was very obvious she was fighting someone else's fight for the simple need for attention, which has been very clear since 1994," Brandi wrote, adding that Lisa Vanderpump only defended "the situation because she sees that it isn't fair and because we are true friends, which really bothers Kyle."
Article continues below advertisement
As for Kyle, she says she was just planning on "a nice dinner party with my girlfriends," planning that either Adrienne or Brandi would cancel, paving the way for a pleasant time.
Kyle said Faye's issue with Brandi stems from a comment Brandi made about her sister Kim.
"Faye has known my family for many years and felt that comment was reckless," Kyle said. "I have spent more time with Brandi to get to know each other and we both have been able to move past that horrible night. Faye has not. It has been a bit of a sore subject between us. I love Faye and she is a very loyal person."
Kyle said that the clash between Brandi and Faye stemmed from their "strong personalities" and "preconceived ideas about one another.
"I think that if they had met under different circumstances," she wrote, "they would probably be good friends."
As for Faye, she chimed in on Twitter Tuesday, tweeting that Kyle "was trying to keep the peace and even comforted Brandi when she left."
She added of Brandi on a Bravo blog: "And while afterwards she claims to be 'sorry' for what she said, the harm has already been done, so saying, 'Things just come out my mouth' or 'I'm sorry' time and time again this behavior becomes disingenuous."