Adrienne Maloof & Brandi Glanville Feud Just Won't Die Down! Now, Kyle Richards & Lisa Vanderpump Join The Fight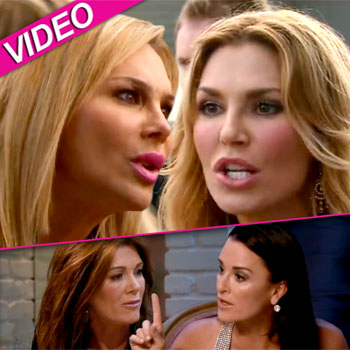 Article continues below advertisement
Faye, saying she's known Adrienne for more than 25 years, put a hostile Brandi on the spot, asking her why she hasn't apologized yet. Brandi responded with her usual congeniality.
"I don't know Faye from Adam, and it's none of her business, so she should just shut the f*ck up," Brandi said in an off-camera interview.
Kyle said off-camera, "The more time Brandi waits to speak with Adrienne, the worse the problem gets," suggesting Brandi send flowers to Adrienne as a peace offering.
At that point, Lisa couldn't stay silent anymore, growing agitated while watching a sanctimonious Kyle model her peacemaker hat.
She asked Kyle, "What about when you had the argument with Brandi, she was devastated, you weren't sending flowers to her the next day!"
Kyle quickly lost her cool, pointing a finger at Lisa, and implying she only suggested against extending the olive branch because she doesn't like Adrienne.