Kate Middleton Still Battling Severe Morning Sickness, Cancels Event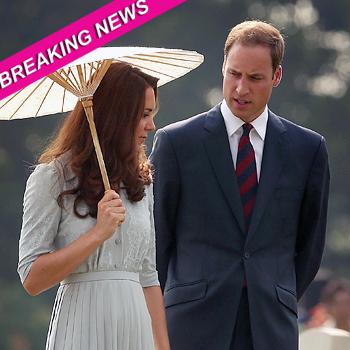 Kate Middleton's severe morning sickness is back and it's so bad that the Duchess and her royal hubby Prince William canceled a scheduled event on Sunday, RadarOnline.com is reporting.
Kate, 30, was just released from King Edward VII Hospital on Thursday after spending three nights under observation for a rare and extreme form of morning sickness.
"It is well known that Hyperemesis Gravidarum often recurs," a St. James Palace spokesman told Us Weekly, confirming that Prince William canceled his appearance at the British Military Tournament to be by Kate's side at their Kensington Palace home.
Article continues below advertisement
"Until further notice, to allow the Duchess a degree of privacy during her pregnancy, we do not intend to offer regular condition checks or advise of routine developments."
As RadarOnline.com previously reported, "Hyperemesis gravidarum (HG) is a rare disorder characterized by severe and persistent nausea and vomiting during pregnancy that may necessitate hospitalization," according to WebMd.com.
"As a result of frequent nausea and vomiting, affected women experience dehydration, vitamin and mineral deficit, and the loss of greater than five percent of their original body weight."
Adding to Kate's already eventful pregnancy is the tragic suicide of Jacintha Saldanha, the hospital nurse who patched through Australian radio hosts Mel Greig and Michael Christian who called for Kate pretending to be the Queen and Prince Charles.
The Duke and Duchess of Cambridge released a statement on Friday saying they were "deeply saddened" by Jacintha's death and added: "Their thoughts and prayers are with Jacintha Saldanha's family, friends and colleagues at this very sad time."
Article continues below advertisement