A Royal Baby? Kate Middleton's Close Pal Says Announcement Will Be Made Next Month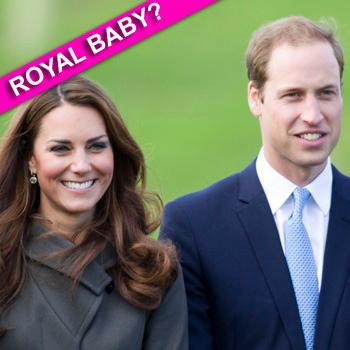 Prince William and Kate Middleton will be making a BIG announcement next month, says a friend of Kate's, sparking intense renewed speculation that a Royal baby is on the way.
Kate, 30, is ready to share "wonderful, happy news" next month, says Jessica Hay in an interview with New Idea magazine. Hay, described as a close friend of Kate's, tells the mag: "They're planning to make an announcement in December."
Article continues below advertisement
Hay attended the Royal couple's wedding reception and shared a school dormitory with Kate at 14. She notes that her friend has gained a little bit of weight recently and that "William and Kate are focused on starting a family."
William, 30, previously told Katie Couric that his time in the Royal Air Force may be drawing to a close because of the pressures of his "other life" and added, "more importantly, I'd like to have children."
While Kate will be happy with either a boy or girl, Hay says the Duchess of Cambridge is secretly hoping for a boy first and then a girl. "It seems very traditional but of course they'll be happy with two boys or two girls, they don't want more.
"They've discussed it endlessly and don't want to be older parents."
Pregnancy headlines would be a welcome relief for Kate after her topless-photo ordeal and the international attention it drew. The pictures were snapped while Kate and William vacationed in France.