Smiling Kate Middleton Released From Hospital: 'I'm Feeling Much Better, Thank You'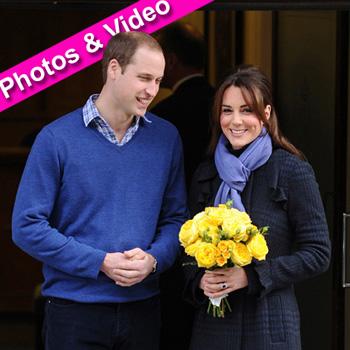 Kate Middleton was discharged Thursday from the King Edward VII Hospital in London following three nights under observation after experiencing a rare and extreme form of morning sickness. St. James' Palace said the Duchess of Cambridge, 30, will continue her recovery at her home, Kensington Palace.
Middleton -- protected by the cold in a navy-colored coat and scarf -- left the private hospital looking relaxed as she carried a bouquet of yellow flowers.
Article continues below advertisement
As she smiled for photographers, she said: "I'm feeling much better. thank you." She was then driven away with her husband Prince William, 30, who had arrived at the hospital only a few minutes earlier in a green Land Rover.
As RadarOnline.com previously reported, Middleton -- who is less than 12 weeks pregnant -- was hospitalized on Monday after developing a rare condition known as hyperemesis gravidarum, or extreme, non-stop nausea which and can lead to dehydration. The condition -- also known as "hg" -- is sometimes linked to the expectant mother having twins, or a girl.
In announcing her release from the hospital, a St James's Palace spokesman said in a brief statement: "The Duchess of Cambridge has been discharged from the King Edward VII Hospital and will now head to Kensington Palace for a period of rest.
"Their Royal Highnesses would like to thank the staff at the hospital for the care and treatment the Duchess has received."
As Kate continues to rest at home, the furor continues over the prank call made to the hospital by two Aussie DJs.
Article continues below advertisement
DJs Mel Grieg and Michael Christian from the Australian station 2Day FM pulled the prank early Tuesday, calling King Edward VII hospital and impersonating the Queen and Prince Charles to get confidential medical information on Middleton.
A hospital spokesman said "the call was transferred through to a ward and a short conversation was held with one of the nursing staff," adding the facility "deeply regrets this incident."
The nurse -- saying Kate was about to be "freshened up" -- confirmed the wife of Prince William was "sleeping at the moment and … had an uneventful night.
"She's been given some fluids, she's stable at the moment," the duped medical professional added.
Asked when it would be OK to visit, the nurse said, "I would suggest that any time after nine o'clock would be suitable, because the doctor will be in the morning, and will just be getting her freshened up in the morning … I would think any time after nine."
Article continues below advertisement
The nurse continued, "She hasn't had any retching with me, since I've been on duty, and she has been sleeping on and off … I think it's difficult sleeping in a strange bed as well."
Christian piped in, "Yes, of course, it's hardly the palace, is it?"
King Edward VII hospital chief executive John Lofthouse deplored the rib as "a foolish prank call that we all deplore.
"We take patient confidentiality extremely seriously and we are now reviewing our telephone protocols."