Is Kate Middleton Expecting Twins? New Details About Her Rare Morning Sickness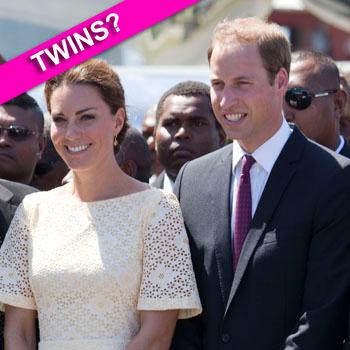 With the world buzzing about Kate Middleton's pregnancy, medical experts say the fact that she is experiencing hyperemesis gravidarum, or severe nausea, could very well signal that the Duchess of Cambridge is expecting twins.
With Prince William at her side, Kate remains in a London hospital with the rare condition that impacts 2 percent of pregnant women, ABC News reported, leading to weight loss and dehydration.
Article continues below advertisement
Medical experts told the network the condition is linked with women having twins.
Dr. Ashley Roman, of the at New York University Langone Medical Center, said that a study of the condition revealed women who are carrying twins held a 7.5 percent higher risk of experiencing hyperemesis gravidarum. In some cases with the condition, a female child was more likely, the network reported.
Roman said that the condition shouldn't impact the baby's health. She told the network that Kate's symptoms -- nausea and vomiting -- are "traditionally thought of as a sign of a healthy pregnancy."
Most of the cases conclude 16 or 20 weeks into the pregnancy, Roman said, adding that in scarce cases, it can last the entire nine months.
Ohio OB/GYN Dr. Nancy Cossler told ABC News Kate will likely have to endure "constantly feeling sick and puking" as she gets the illness out of her system.
"The biggest problem with this is how it interferes with your life," Cossler said.
Elsewhere, gamblers were wagering early and often as to what the royal heir's name would be, with the same batch of names at the top of the favorites board.
MORE ON:
hollywood happenings
Article continues below advertisement
At the English casino Ladbrokes, Elizabeth was the 8/1 favorite, with Frances at 10/1 and Diana at 12/1 odds if the child is female; if male, the casino had John or Charles at 10/1, James at 12/1, Philip or George 14/1, Edward at 16/1 and Andrew at 20/1.
Ladbrokes' Jessica Bridge explained why Elizabeth was the favorite of all prospective names.
"Kate and Wills pulled the wool over our eyes, but now attention turns to the name of the baby and it looks like the couple will stick with a traditional name," Bridge said. "If they're expecting a girl, who better to name her after than Her Majesty?"
The casino William Hill had Frances -- the name of William's grandmother on his mother's side -- and John as 9-1 favorites, with Charles, George and Victoria, all paying out at 10-1. As for gender, Hill has odds of 10/11 for either male or female.
For those who like to play the longshots, Paddy Power, a Dublin casino, had Camilla, as in Camilla Parker Bowles, at 66-1 and or Fergie, as in Sarah Ferguson, at 250-1.