Exclusive
Prince Harry's 'Drunken Fumble' Girl Is Negotiating An Exclusive TV Interview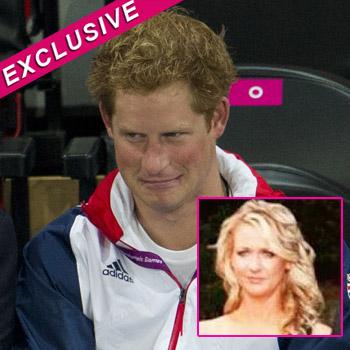 Article continues below advertisement
Carrie, 40, was the only woman to speak publicly about Harry's naked partying in Sin City, and she believes MI6 demanded she be sent to jail for bouncing checks in an effort to silence her!
"Carrie has a lot to say on the matter. She feels she's been unfairly treated and wants to go on national TV to talk about her plight," a source told RadarOnline.com.
"She believes there's still a lot more to say about her encounter with Harry and is desperate to prove that she did spend time with him in his hotel suite.
"The royal family claimed that Carrie made up the story and was desperate for fame, and Harry said he had never met her. However, Carrie is standing by her story, and she's enlisted the help of a showbiz manager to negotiate a TV deal on her behalf," the source divulged.
As RadarOnline.com previously reported, Reichert has claimed that the British Secret Service had a hand in putting her in jail.
Reichert was locked away for nearly a month in Harrison County jail in Mississippi after being arrested for bouncing checks worth a total of $21,672 -- just hours after selling her story.
Article continues below advertisement
Carrie told the Mail Online: "I believe the British secret service or whoever protects the have something to do with my situation. I am not being treated the same as someone else in my situation."
Her attorney, Donald Rafferty, agreed that he feels Carrie got the hard end of the stick, he said: "Carrie feels like she is being treated much different to other people.
"Professionally, since 1984, in my experience a charge of this nature is typically not prosecuted at the same level that she is being prosecuted at.
"All she had to do was obtain a fugitive bond out there and turn herself into Mississippi. She became high profile very quickly because of an interview she gave and that had an impact.
"I am not convinced that Mississippi authorities were the ones necessarily stirring that gumbo as we say, but something was.
"I am trying to get my teeth into the case to help that young lady. She is disappointed and very upset over the way this is going down. She has several legitimate defenses to the allegations contained in the indictment."
Article continues below advertisement
When asked about Reichert's claims that the British Secret Service were behind her arrest, Rafferty added: "There has been discussions in the legal team concerning whether that was a motivating factor for the way the authorities have been handling the case.
"However, we will see how the state case develops."
Reichert faces 5 years in prison, if found guilty.
RELATED STORIES:
Prince Harry Wins Back Ex-Girlfriend After Nude Photo Scandal!