Prince Harry's 'Drunken Fumble' Girl Claims British Secret Service Put Her In Jail!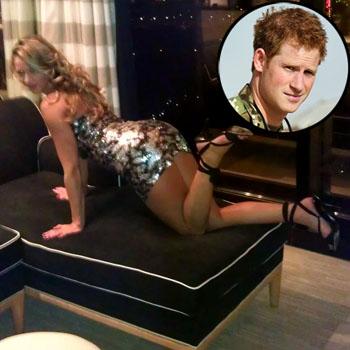 By Jon Boon - RadarOnline.com Reporter
The busty blonde model, who claimed she had a "drunken fumble" with Prince Harry during his now infamous Las Vegas trip, has sensationally claimed that the British Secret Service had a hand in putting her in jail, RadarOnline.com is reporting.
Carrie Reichert, 40, was mysteriously locked away for almost a month in Harrison County jail in Mississippi after being arrested for bouncing checks – just hours after selling her story to a UK tabloid claiming she is 26 years old and that she enjoyed 20 minutes of alone make out time with the royal rebel in his hotel suite.
Article continues below advertisement
Reichert told the Mail Online: "I believe the British Secret Service or whoever protects the Royals have something to do with my situation. I am not being treated the same as someone else in my situation."
Despite limited evidence to support her claim that MI6 used her criminal record to ensure she was arrested at the San Diego airport on a plane bound for Mexico on August 24, Carrie has enlisted the help of attorney, Donald Rafferty.
"Carrie feels like she is being treated much different to other people," Rafferty said. "Professionally, since 1984, in my experience a charge of this nature is typically not prosecuted at the same level that she is being prosecuted at.
"All she had to do was obtain a fugitive bond out there and turn herself into Mississippi. She became high profile very quickly because of an interview she gave and that had an impact.
Article continues below advertisement
"I am not convinced that Mississippi authorities were the ones necessarily stirring that gumbo as we say, but something was.
"I am trying to get my teeth into the case to help that young lady. She is disappointed and very upset over the way this is going down. She has several legitimate defenses to the allegations contained in the indictment."
When asked about Reichert's claims that the British Secret Service were behind her arrest, Rafferty added: "There has been discussions in the legal team concerning whether that was a motivating factor for the way the authorities have been handling the case.
"However, we will see how the state case develops."
Reichert allegedly wrote four bad checks worth a total of $21,672 beginning from August 2003. Rafferty says that she denies the "felony bad check" charge, claiming that it was a failed business venture.
Despite Mississippi law stating that all bad checks written for an amount of $100 or more are charged as felonies, Rafferty believes his client should have paid a bail fee to guarantee her court appearance.