Prince Harry's Las Vegas Kiss & Tell Girl In Jail, Busted For Fraud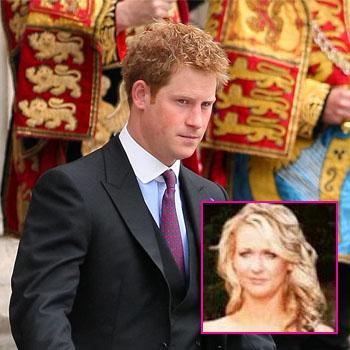 Article continues below advertisement
"Customs matched her up at the airport," a source told the Daily News.
"She was fixing to go out of the country, but we had them snatch her up. She didn't get to go on her little weekend adventure.
"How stupid can you be? You know you've got warrants on bad checks you've written. After 9/11, you know we're checking everyone on every flight," the source added.
Reichert could face more than a year in jail for the felony charges, according to authorities. She is currently at Santee, Calif., detention center.
Interestingly, her inmate record says she is 40 years old. She told UK tabloid The Mirror in her recent bombshell interview she was 32!
As RadarOnline.com previously reported, Reichert claimed she had some alone time with the 'Party Prince' in his hotel suite the night of the infamous naked romp.
"We kissed, he was naked at the time, and pretty open. It was a drunken fumble. It wasn't romantic, just fun," she told The Mirror.
Article continues below advertisement
However, the royal family denied claims Reichert spent 20 minutes with Prince Harry, and Clarence House soon moved to quash the allegations and warn the British tabloids not to publish anything on Reichert again.
"When Harry was quizzed about Carrie, he had absolutely no idea who she was," a source revealed.
"He doesn't believe he met her on that now infamous night and certainly didn't engage in anything sexual with Carrie.
"It's an opportunist move on her part, she clearly wanted to make money off his name and somebody bought it.
"As soon as the story broke, Clarence House contacted the British Press and told them the story was untrue and not to consider following up on Carrie's story.
"With Prince William and Kate Middleton about to embark on a royal trip the last thing the British newspapers want to do is upset the royal family.
Article continues below advertisement
"In the event that something negative is published, the royal correspondents from the newspaper concerned would be pulled from the trip and even possibly blacklisted from future royal engagements," the source revealed.
RELATED STORIES:
Prince Harry Still Smiling (And Still Clothed) For Paralympics
Prince Harry Keeps His Clothes On For First Public Appearance Since Nude Photo Scandal
Prince Harry Told Not To Publicly Apologize For Nude Snaps By Prince Charles!
Prince William And Kate Middleton's Royal Trip: Journalists Banned From Asking About Harry