Prince William And Kate Middleton's Royal Trip: Journalists Banned From Asking About Harry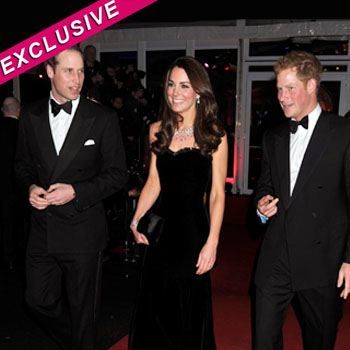 Article continues below advertisement
However, royal correspondents who are joining William and Kate on the trip have been told that questions about Harry are off limits.
"Journalists who are travelling on William and Kate's trip have been sternly warned that questions about Prince Harry are out of the equation," a source revealed.
"This is a royal engagement, a nine-day trip that has been organized by the Queen for her grandson and his wife, who are keen to pay tribute to her life of dedication and service. It was set up to mark the Queen's Diamond Jubilee.
"It holds specific importance because Singapore and Kuala Lumpur are Commonwealth countries and William and Kate's visit will strengthen diplomatic and trade links in the region.
"So, because of its importance, the Palace has said that anyone that quizzes William and Kate about Harry's naked escapades in Las Vegas will be sent home. He's a topic that is off limits," the source said.
Meanwhile, Harry's problems appear to have mounted with Radar's revelation that hookers and a known cocaine dealer were in his Las Vegas hotel room during his now infamous naked romp.
Article continues below advertisement
This latest bombshell comes soon after RadarOnline.com reported that the 'Party Prince's' Hangover-style night was caught on tape.
Worse still, an eyewitness said that they saw partygoers doing drugs in his VIP suite at the Wynn Hotel & Casino.
"A really good friend of mine is a cocaine dealer and texted me from the hotel room while the party was happening and said, 'Guess where I am?!?'" a source exclusively told RadarOnline.com.
"Turns out he was in the Wynn suite with Harry, his pals and all those girls."
RadarOnline.com has confirmed that at least one of the women partying in Harry's suite has been known to prostitute and accept money and gifts for sexual favors.
"My friend won't give up any of the details about what happened in that hotel suite including whether or not Harry was doing coke, but he was definitely there," the source concluded.
Article continues below advertisement
"Things got pretty crazy in Prince Harry's suite that night. Everyone was drinking and drugs were also being used by some people," an eyewitness who was present at Harry's party previously revealed to RadarOnline.com.
"Some people were snorting cocaine… Some were already rolling on shrooms (hallucinogenic mushrooms) when they arrived at the party, and some were just high on weed. And that's exactly why no one there has come forward on the record…they don't want to be implicated for any illegal activities."