Exclusive
Wynn Las Vegas Owner Puts Staff On Lockdown After Prince Harry Photo Scandal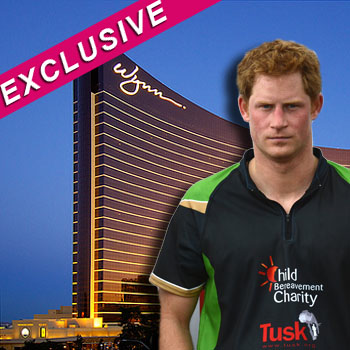 Article continues below advertisement
"Staff members at the Wynn have been reminded once more to keep their mouths shut about anything Prince Harry related," a source said.
"It's against hotel policy to discuss guests normally, but Steve thought it was best to let staff know that anyone caught talking about what happened that night will be reprimanded.
"He's warned them they will lose their jobs if they are suspected of blabbing to the press and he will make sure they never work in Vegas again.
"Steve takes privacy for celebrities at his hotels very seriously. They spend fortunes on VIP suites, in his clubs and casinos.
"He would hate to think their security was being compromised and wants them to come back, enjoy themselves again and spend even more money," the source revealed.
A spokesperson for the Wynn had no comment to make regarding the said lockdown.
As RadarOnline.com exclusively reported, cocaine WAS used in the Las Vegas hotel room where Prince Harry was pictured cavorting naked with a mystery girl.
Article continues below advertisement
An eyewitness in the suite revealed: "Things got pretty crazy in Prince Harry's suite that night. Everyone was drinking and drugs were also being used by some people, some were snorting cocaine.
"Some were already rolling on shrooms (hallucinogenic mushrooms) when they arrived at the party, and some were just high on weed. And that'sexactly why no one there has come forward on the record…they don't want to be implicated for any illegal activities," the eyewitness said.
However, the source revealed that he did not see Prince Harry using cocaine or any other illegal drugs.
A different source told RadarOnline.com Harry's antics were captured on video, which has been quietly shopped to a very limited number of people as the person with the video is extremely nervous.
"There is video of Harry partying naked with women in the Las Vegas hotel room," a source familiar with the situation said. "There have been some very quiet inquiries to see how much the video is worth.